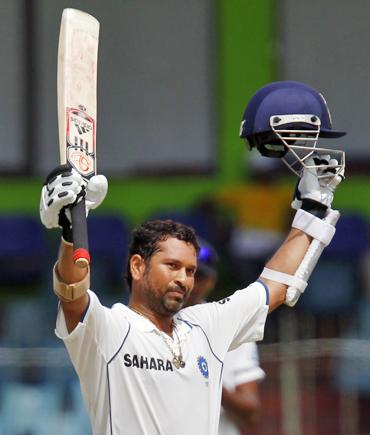 Mumbai Cricket Association (MCA) has formally requested the BCCI to allot the second and final Test between India and the West Indies to the Wankhede Stadium in Mumbai so that Sachin Tendulkar could play his milestone 200th Test in front of his home crowd.

"We have put in our request. If it is going to happen, then we should be the first claimants. We would like to have it over here since he is from Mumbai," Savant said on Tuesday.

Tendulkar has played 198 Tests since making his debut in 1989 against Pakistan in Karachi.

Turning his eye towards BCCI's annual general meeting in Chennai on September 29, Savant, who is also the Board's treasurer, is certain that incumbent president N Srinivasan would chair the meeting.

"Yes, he will lead (the meeting) as the president," Savant said.

Srinivasan had stepped aside after the Bombay High Court had termed the BCCI's two-member probe commission as "illegal and unconstitutional" and the BCCI's appeal against this verdict in the Supreme Court is pending.

"N Srinivasan had recused himself, so that there were no accusations that he had influenced (the report). The point is that there was an amendment in the IPL governing council rules that was perhaps not brought to the Bombay High Court's notice. If that is considered, then may be the decision can be be different," said Savant.

"They have only called the constitution (of the probe commission) as illegal, but the High Court has restrained itself from making any comment on the findings. They have not said it is biased or there is collusion," he added.

Savant said the two retired Madras High Court judges T Jayaram Chouta and R Balasubramanian, who were members of the probe commission, had based their findings on the bail application of spot-fixing accused cricketers Ankeet Chavan and Sreesanth who have now been banned for life by the BCCI.

"They (Bombay High Court) have not expressed (opinion) on the finding. Their (probe panel's) area of operation was limited. They went to the police but the police was in process of filing a chargesheet, so they could not give any information.

"Finally what they had with them was the bail application of Sreesanth and Ankeet Chavan. The court said all these players are caught for spot fixing but there has to be a third party, which police has not brought forward properly and that is why the bail is sanctioned.

"That is the only document that was in front of them. As a private commission they could not get the co-operation of government department."

Sreesanth and Chavan, along with their Rajasthan Royals team mate Ajit Chandila, were arrested by the Delhi police for their alleged involvement in the spot-fixing scandal during the sixth edition of the Indian Premier League earlier this year.

Asked if a new probe commission would be appointed, Savant said, "I don't think it will serve any purpose. They (Chouta and Balasubramanian) have dealt with the situation on the documents they have had. There is nothing else a new commission can do. Even if you appoint a new probe commission, what purpose will be served," he wondered.
Former BCCI vice-president Rajiv Shukla said that the Board has not yet decided which city will host Tendulkar's much-anticipated 200th Test during the two-match series against West Indies in November.

"The BCCI has not yet decided which city will host Sachin Tendulkar's 200 Test. Many state associations have shown interest in hosting the much-hyped match but BCCI is yet to arrive at a decision. Every association wants that Sachin achieves the historic feat at its stadium," Shukla said.

"Kolkata and Mumbai are the strong contenders. Eden Gardens has a sitting capacity of one lakh, while in Mumbai we have around 65,000," he added.
Photograph: Reuters