'By God's grace, everything is okay and we are back as friends.'
Vinod Kambli gets candid.
Harish Kotian listens in.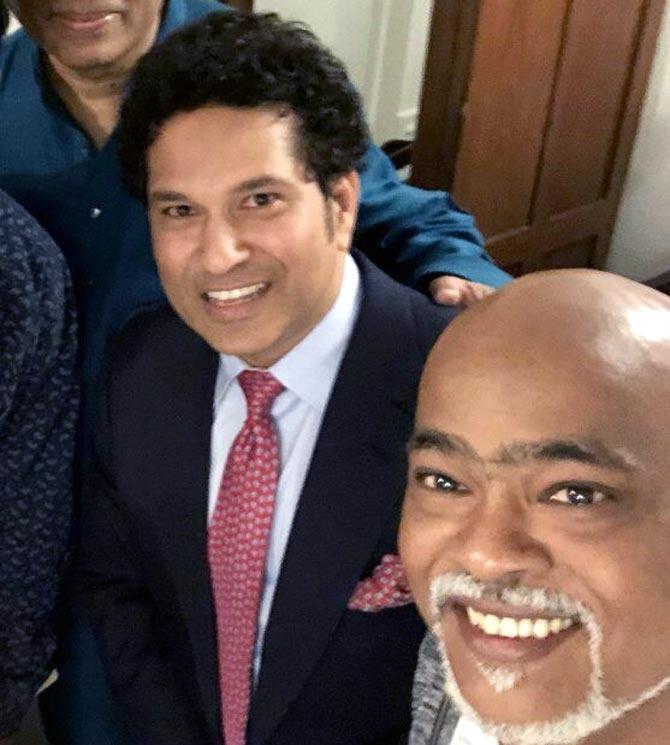 IMAGE: 'To all my dearest friends. This is mine and Master Blaster's first ever Selfie Taken,' said Vinod Kambli as he tweeted a picture with Sachin Tendulkar.
There was a time when getting into the Mumbai team was more difficult than getting into the Indian team.
Mumbai, who have produced cricketers like Vijay Merchant, Polly Umrigar, Vijay Manjrekar, Manohar Hardikar, Ajit Wadekar, Padmakar Shivalkar, Sunil Gavaskar, Dilip Vengsarkar, Sanjay Manjrekar, Sachin Tendulkar, Rohit Sharma, Ajinkya Rahane among others, have won a record 41 Ranji Trophy titles.
In recent years, Mumbai's hegemony on domestic cricket as well as the number of Mumbai players graduating to the Indian team have declined.
Former India and Mumbai batsman Vinod Kambli believes Mumbai cricket's famous 'khadoos' (gritty, never-say-die) attitude needs to return to the city's maidans. And quickly.
"It has to come back, it (the khadoos attitude) is lost. They (Mumbai) have to get it back by winning the Ranji championship," Kambli said in Mumbai at the launch of Rajdeep Sardesai's Democracy's XI -- The Great Indian Cricket Story.
"Earlier, there used to 7, 8 Mumbai players in the Indian team, but there are now just two or three players," Kambli, who played for Mumbai and India, said. "Last season, we lost the championship (the Ranji Trophy final to Gujarat) and if we want to win the title this year, the players have to perform."
"During our time we had players like Sanjay Manjrekar, Sachin Tendulkar and others, and they all performed, performed as a team. I think we have follow that, only then will the team grow," Kambli said.
At the book launch, the audience was pleasantly surprised to see Kambli interact with his old buddy Sachin Tendulkar
"By God's grace, everything is okay and we are back as friends," Kambli said, confirming in a way the belief that their relationship, which began when they were schoolboys, had cooled in recent years.
"There is absolutely no problem between us now. I am very happy. There are no differences now between me and Sachin, everything is back to normal," he said.
"I have known Sachin for a long, long time. We have been together since the age of 11. We are a good combination and it helped us to play cricket together and understand each other," Kambli, a stylish left-hander who hit two consecutive Test double centuries, added.
Kambli, who played 17 Tests and 104 ODIs for India, recalled that Tendulkar was Ramakant Achrekar's favourite disciple because he followed the coach's orders.
"Sachin said I used to play big lofted shots, but he didn't say that I used to get a lot of punishment from Achrekar Sir for those big shots," Kambli, who was dropped from the Test team when he was only 24 despite a Test average of 54, revealed.
"He (Sachin) used to listen (to Achrekar) and he always played shots along the ground, but I never listened and that is why I got into the habit of hitting sixes," Kambi recalled.
"We used to play a lot of pranks as kids, I remember when we were small when we traveled in trains we always got into the ladies compartment," Kambli said, bursting into laughter.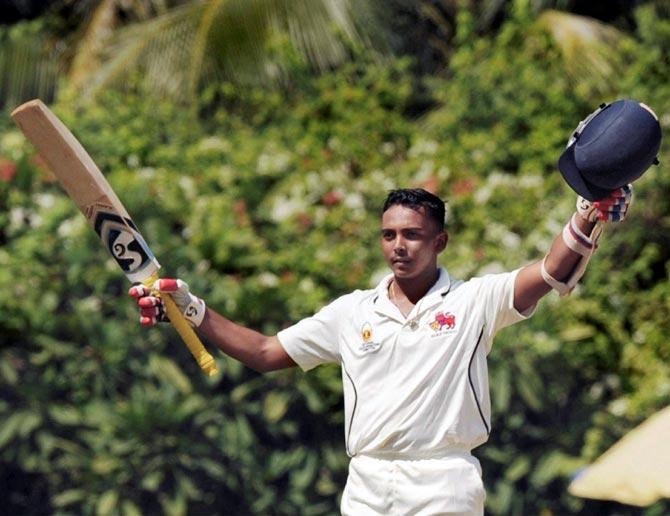 IMAGE: Prithvi Shaw celebrates his century in the Ranji Trophy game against Tamil Nadu in Mumbai. Photograph: BCCI
Kambli believes there is a lot of talent at the junior level in Mumbai and the administrators should take the right steps to groom the youngsters and develop their ability.
"It is good to see kids breaking records. But I just wonder what happens to them," Kambli asked.
"Someone scored 1,000 runs, a lot of people came close to our record (Sachin and Vinod's 664 run partnership in schools cricket in 1988), but somehow they suddenly disappear," he added.
"I don't know how they disappear or where they go, but we should understand that these are the players who can really make it big later. We have to look after those players and groom them properly," Kambli said.
He cited Mumbai youngster Prithvi Shaw who has scored tons of runs at the junior level and is now making waves at the senior level.
"Look at someone like Prithvi Shaw, if you keep getting the big scores it helps you a lot. He is a good player, and I am sure he has a big future ahead of him," Kambli -- who made his international ODI debut when he was 19 and Test debut when he was 20 -- said.
Having maintained his distance from cricket since announcing his retirement in 2011, Kambli revealed he is now looking at a career in cricket.
"I am trying to get into coaching, that is my first aim," he said. "That is why I have lost weight and I have gotten fit. I am working hard at it."
"If I get an opportunity to coach, I am ready to share my knowledge and the things I have learnt from Achrekar Sir," he added. "I have played in South Africa and am a Level-3 coach already."