'My thinking has always been that it is good to retire when people are asking why than why not. I always wanted to retire on a high.'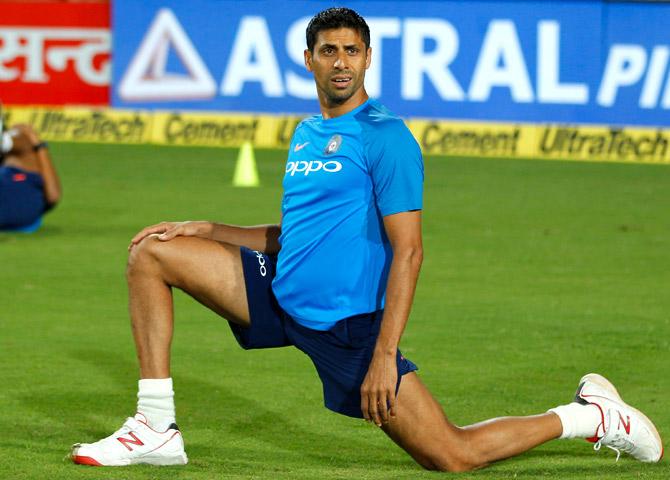 IMAGE: Ashish Nehra during a warm-up session. Photograph: BCCI

Veteran Indian pacer Ashish Nehra on Thursday decided to call time on his injury-ravaged career after next month's opening T20 International against New Zealand at his home ground in Delhi, saying 'it is always good to retire when people are asking why rather than why not'.

"I have spoken to the team management as well as the chairman of selection committee that the game against New Zealand has come in Delhi. So it can't get bigger than retiring in front of your home fans where I played my first Ranji Trophy game 20 years ago," said Nehra.

The 38-year-old seamer made the announcement on the eve of the third and final T20 against Australia, in Hyderabad, on Friday.
The left-arm pacer also confirmed that he won't be playing in the lucrative Indian Premier League.

Making his India debut back in 1999 under Mohammed Azharuddin, Nehra has so far played 17 Tests, 120 ODIs and 26 T20 Internationals for the country. He has picked 44 Test wickets, besides 157 ODI and 34 T20 scalps. He could have played a lot more but for the constant injuries.

Nehra made his latest India comeback for the ongoing T20 series against Australia but did not get a look-in in the first two games.

He came into the series with the mindset of playing all matches but soon realised that the younger crop was fully ready to shoulder the responsibility.

"When I came into the series, I came prepared to play all games. I spoke to the captain (Virat Kohli) and coach (Ravi Shastri) straightaway.

"My thinking is that I should be in the eleven if I am available. If you see, I have played in all the T20 games in the past two years so I told my plans to them (team management)," said the Delhi veteran.

Nehra said it is not a decision he made overnight and reached the conclusion after seeing the young pacers do well.

"Bhuvneshwar is ready (to shoulder the responsibility) with the way he is bowling. Earlier, (Jasprit) Bumrah and I were playing but now Bhuvi is doing well. And there is also no big event lined up in the next five to six months. I put my point of view and they all respect my decision," said Nehra.

The left-arm fast bowler said he could have easily played international cricket for another year and also the next IPL.

"It is very important for me to know what people think about me in the dressing room. So now, they all are saying I can easily play for another one to one and a half year. My thinking has always been that it is good to retire when people are asking why than why not. I always wanted to retire on a high."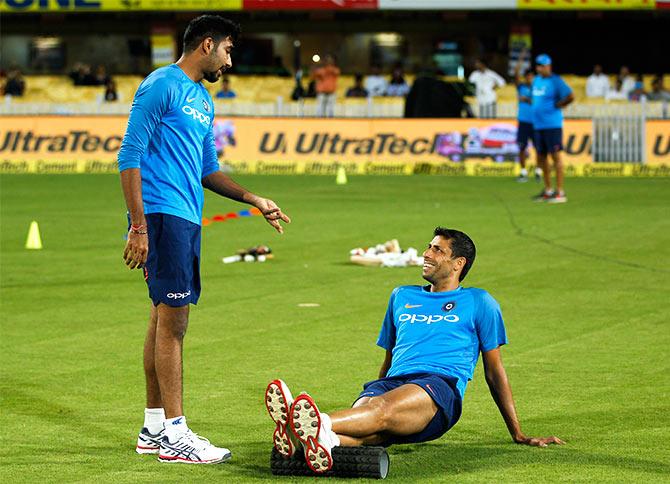 IMAGE: Ashish Nehra, right, speaks to Jasprit Bumrah. Photograph: BCCI

Nehra is best remembered for his six for 23 against England at Durban in the 2003 World Cup, a match he played despite being unwell and frequently threw up in between his overs at the Kingsmead.

He was also a part of the 2011 World Cup-winning squad with a match-turning performance in the semi-final against Pakistan but missed the final due to a finger fracture.

Asked to pick his fondest memory in more than 18 years of international cricket, Nehra said: "Everyday is a memory for me. People remember moments, like the six wickets against England, or the last over in Karachi but I don't think I am like that.

"But yes I will always feel good about the fact that the captain always asked me to bowl the last over. We won the World Cup final (in 2011), lost also (in 2003) but tough to pinpoint my fondest memory."

On a lighter note, Nehra said that he has made plans only till November 1, when he will say goodbye to the game, though he is open to coaching roles in the future.

His body underwent as many as 12 surgeries but Nehra overcame all of them to play for India again.

"For me, the true measure of success is how many times you bounce back from failures. When you are always on top and suddenly you fall, you don't know how to come up again.

"I would say that (coming back from injuries) have made me strong mentally. I am sure that will help me in my normal life.

"Last two-three years have been a great journey. For me, it is not how you start, it is how you finish. I always trained to play for India."

Before signing off, Nehra refused to compare the captains he played under, from Azharuddin to Virat Kohli.