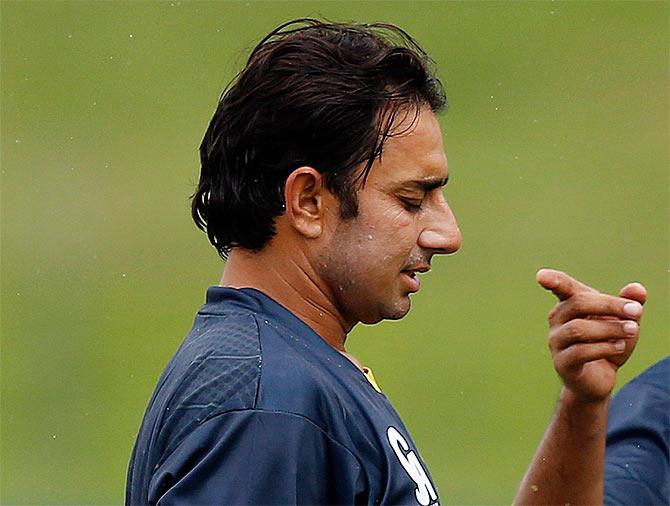 IMAGE: Pakistan spinner Saeed Ajmal. Photograph: Dinuka Liyanawatte/Files/Reuters.
Despite being left out of the central contracts of the Pakistan Cricket Board (PCB),`out-of-favour` off-spinner Saeed Ajmal is hoping to revive his international career through 'one last chance' to prove his worth.

Having notched up a total of 178 wickets in 35 Tests, Ajmal was ranked as the number one bowler in ODIs and was also very impressive in the longest format of the game before being suspended for exceeding the 15-degree elbow flex limit set by the International Cricket Council (ICC) in September 2014.

The spin maestro then underwent remedial work and was cleared to bowl again in February last year.

However, he played just one match since remodeling his action when he last turned up in Pakistan colours in a Twenty20 match against Bangladesh in April 2015.

Reflecting on the same, the 39-year-old insisted that the Bangladesh tour came too early to him and that he is bowling with much command at the moment.

"I was not comfortable with my new action [against Bangladesh] but now I am bowling with much command," he said. "I can even bowl the doosra with this modified action," Ajmal was quoted as saying by the Express Tribune.

Admitting to have regained his lost touch, Ajmal said he is ready to stage an international comeback and prove himself as a champion off-spinner.

"I don't think there will be any problems with my bowling action if I stage an international comeback. I have regained the lost touch and I think I can still prove myself as a champion off-spinner," he said.

"All I need is just one last chance to prove myself. I think I deserve a comeback," he added.

While referring to his remarkable performance in the recently-held National T20 Cup where he was the highest wicket-taker by 20 wickets, Ajmal said that he could still bowl long spells with authority and could also turn out to be extremely useful in the limited-over formats.

Earlier, neither the veteran off-spinner nor former T20 skipper Shahid Afridi were offered central contracts by the PCB as they announced the 30-player list from October 1 to June 30, 2017.