'It's important for the game to have bowlers, who trouble the batsmen'
'It becomes more exciting because you think that you have to prepare differently for a bowler'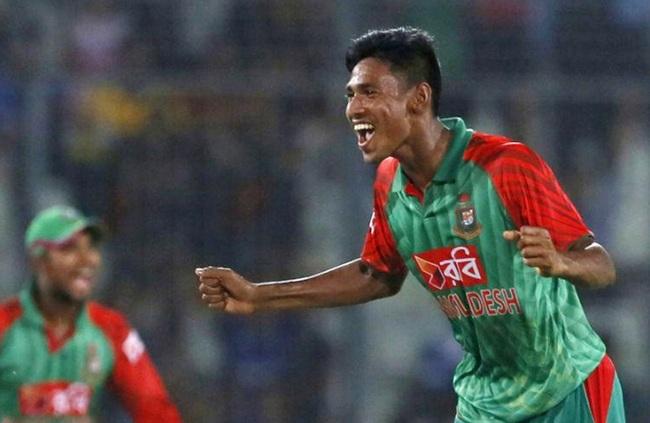 IMAGE: Bangladesh's Mustafizur Rahman celebrates taking an Indian wicket. Photograph: Bangladesh Cricket/Twitter
Virat Kohli was all praise for Bangladesh's Mustafizur Rahman, the pacer who tormented the Indians during their last visit where they lost the ODI series 1-2.
"Mustafizur has done really well in the last one year. He spices up the game. It's important for the game to have bowlers, who come in and trouble the batsmen. It makes the game more competitive. As a batsmen also, it becomes more exciting because you think that you have to prepare differently for a bowler, who has brought something new."
Kohli also feels that in a tournament like next month's World T20, it is very difficult to just focus on two or three particular teams as it can upset the gameplan.
"Every team is dangerous in T20. On a particular day, we are not looking at any team as major threat. We will take the challenge very similarly be it any team from around the world, that's the way we need to approach a tournament like the World Cup.
"If you focus on two or three teams too much, then one tends to lose focus on the rest. Every game counts in this format. Things can change very quickly, momentum is a big factor. Both India and Bangladesh are very strong but we are not focusing on strengths of the opposition too much because we need to back our strengths than find out the weaknesses in the opposition to win matches."
Kohli was asked about the infamous traffic snarls in Bangladesh but the Indian Tests captain made light of it by saying that he is more focussed on the dew factor then traffic.
"We are more concerned about the cricketing conditions than traffic. Wicket does play differently a lot of times, and dew can make it almost a one-sided game. As for traffic, I just go off to sleep while we are in the bus," he said.