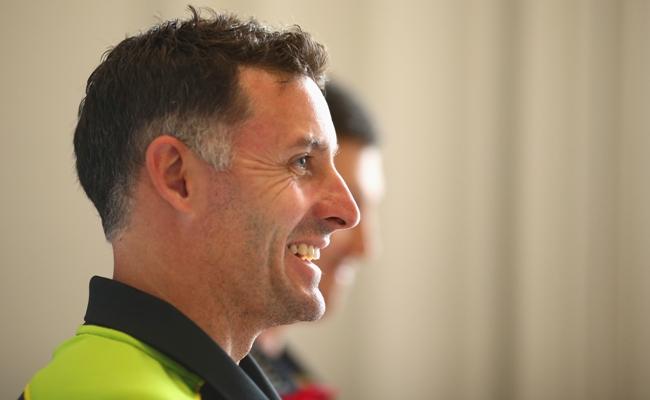 If reports are to be believed, former Australian batsman could be team's stand-in coach for their three-match T20I series against Sri Lanka, scheduled to be played in February.
With head coach Darren Lehmann to accompany the Test squad to India for their four-match tour to India which overlaps with that of the series against Sri Lanka, Cricket Australia have confirmed they will need a caretaker coach for three-match T20I series at home, reports cricket.com.au.
According to a report, Hussey appears to be the front-runner for the post. It is noteworthy that the likes Jason Gillespie, Ricky Ponting and Shane Warne have indicated varying degrees of interest in taking the reins.
Hussey, also known as 'Mr. Cricket', who had travelled to India earlier this year as a batting consultant with Australia for the World T20 tournament, was enlisted as an assistant coach with Australia A for their four-day games against South Africa A and India A over the winter.
"I'm already interested in it (coaching), definitely, but I'm not sure I'm keen to be in it in a full-time capacity because if you're with an international team you're pretty much on the road for 10 months a year and that's certainly one of the reasons why I retired," Hussey said.
"It's certainly not something that I'm in the short term looking to get back into on a full-time basis, but perhaps down in the future and certainly coming in as a consultant type and helping out for a few weeks here or there, is something that's really interesting," the 79-Test veteran added.
The three-match T20 series against Sri Lanka will start from February 17, followed by games on February 19 and 22.
Australia's tour to India will begin from February 23 when the first Test would be played in Pune, followed by games at Bengaluru (March 4-8), Ranchi (March 16-20) and Dharamsala (March 25-29).
Image: Mike Hussey
Photograph: Ryan Pierse/Getty Images