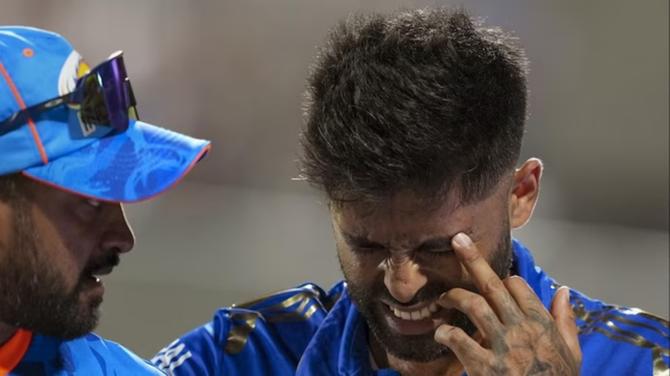 Mumbai Indians Head Coach Mark Boucher has shared a courageous request made by Suryakumar Yadav during their game against the Delhi Capitals, which MI won by six wickets, earning their first win of IPL 2023.
In the first innings of the match, Suryakumar was hit above the eye while fielding.
During the 17th over, he dropped Axar Patel and the ball hit him above the eye, forcing him to leave the field for treatment.
Despite his injury, Suryakumar expressed his desire to bat at number four when MI returned to chase the target. He has been batting at number four for the team since their opening match against Royal Challengers Bangalore.
Boucher praised Suryakumar's determination, saying, 'He did get hit on the field, he came in, and his eye was starting to swell. He had to ice it. I came in thinking, maybe we move him down in the order. He meets me in the bathroom and says, "Coach, actually I want to bat 4." For me, that's not shying away from anything.'
Boucher -- who lost his sight in his left eye after an accident on the cricket field -- highlighted the importance of having such characters in the dressing room who do not shy away from challenges but rather face them head-on.
Although Suryakumar did not have a successful outing against DC and was dismissed for a golden duck by Mukesh Kumar, his courage and fighting spirit will undoubtedly inspire his team in coming matches.