Richie Benaud, Australia's celebrated former cricket captain and commentator, died on Thursday at the age of 84. Here are a selection of quotes from the man who came to be known as the 'voice of cricket' during a 40-year career behind the microphone.
- Former Australia captain and broadcaster Benaud dies
- 'A part of cricket died today'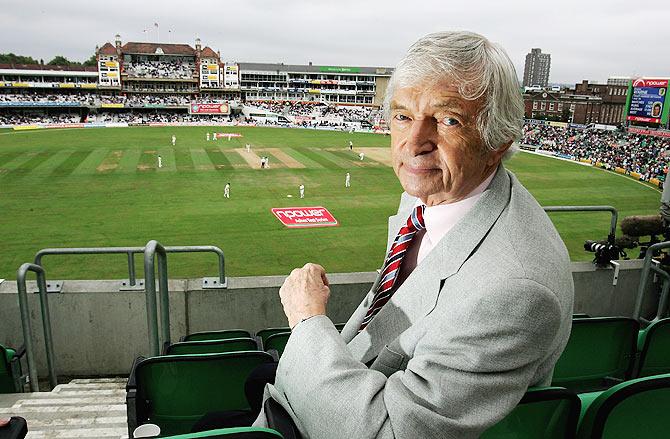 Cricket commentator Richie Benaud. Photograph: Tom Shaw/Getty Images
On his approach to cricket commentary:
"Put your brain into gear and if you can add to what's on the screen then do it, otherwise shut up."
On captaincy:
"Captaincy is 90 per cent luck and 10 per cent skill. But don't try it without that 10 per cent."
On the media:
"Media were never allowed into an Australian dressing room until I became skipper. I changed that and invited them in at the close of play each day, thereby confirming for many administrators they had appointed a madman as captain."
On Australian legspinner Shane Warne's 1993 'ball of the century' which bowled England batsman Mike Gatting on day two of the first Test of the Ashes series at Old Trafford:
"What a cricketer, what a match-winner, what a ball. Gatting has absolutely no idea what has happened to it. Still doesn't know. He asked (umpire) Kenny Palmer on the way out, Kenny Palmer just gave him a raised eyebrow and a little nod."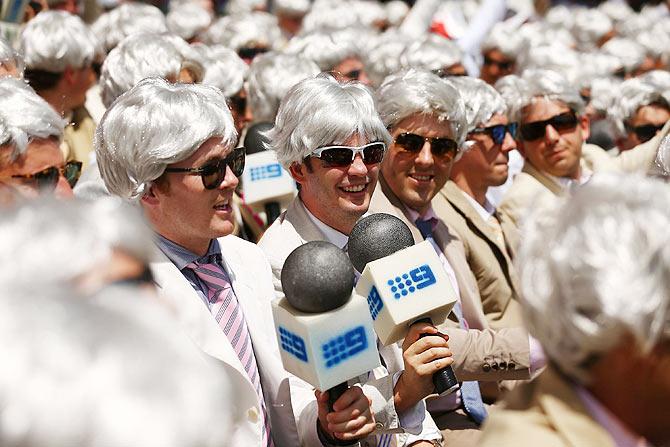 Australian fans dressed as Richie Benaud at Sydney Cricket Ground on January 4, 2014. Photograph: Matt King/Getty Images
On the infamous under-arm bowling incident, when Australia captain Greg Chappell had his brother Trevor bowl under-arm to New Zealand's Brian McKechnie with the final ball of a one-day match in Melbourne in 1981:
"Let me tell you what I think about it, I think it was a disgraceful decision by a captain who got his sums wrong today.
"I think it should never be permitted to happen again -- we keep reading and hearing that the players are under pressure and they're tired and jaded and perhaps their skill is blunted.
"Well, perhaps they might advance that as an excuse for what happened out there today, (but) not with me they don't. I think it was a very poor performance, one of the worst things I've ever seen done on a cricket field. Goodnight."
On Australia's iconic cricketer Don Bradman:
"I once said to (Australia all-rounder) Keith Miller how disappointed I was to have made my debut in the same year as Bradman finished. How wonderful it would have been to have watched him play at the SCG in 1940 and then been able to bowl at him on the same ground.
"Nugget (Miller) looked at me and remarked drily that everyone has one lucky break in a lifetime and that may well have been mine."
On his skin cancer:
"When I was a kid, we never, ever wore a cap. Not the flash ones ... Nugget Miller never wore a cap, so I didn't.
"I wish I had. You live and learn as you go along.
"I recommend to everyone they wear protection on their heads. Eighty-four-year-olds don't seem to mend as well as they used to."