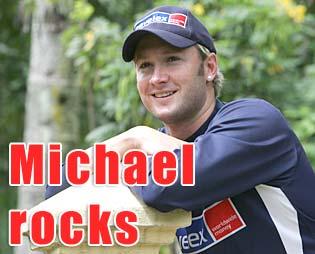 Deepti Patwardhan
Standing in a corner at Polly's bar at the Cricket Club of India in Mumbai, one hand resting on the glass case of cricket memorabilia, Michael Clarke shuffles so much that it looks as if he is facing Anil Kumble on the Chennai track.
He is as comfortable in the Australia travelling blazer, though it does get a little warm on the gallery outside the bar. The chuckle never disappears as he enjoys the lemonade, pops cashews and almonds in the mouth and tucks into the fried prawns, smirking away at the vegetarian starters.
He signs every autograph like his first, and loves finding himself in front of the television camera.
The gold-streaked, unkempt hair and a square silver ear stud bring out the maverick in him. A rock star ambition finding an exciting expression on the cricket field. His energy lends animation to the hard focused Aussie team as does his disrespect for spin bowling in the spin land defy the Australian batsmen's dislike for it.
Fresh and bright as sunlight, Clarke's enthusiasm for life is infectious. His eyes dance around with mischief and wonder, trying to find the colours of the rainbow in a dark velvet sky. Only the light freckles are an indicator of the many days he has put in under the harsh sun during this Indian tour, and the many years that have passed him, training hard in his father Les' sports center when all he wanted to do was play cricket.
Clarke started playing cricket when he was six in Liverpool, New South Wales. His father, a grade cricketer, fuelled his early passion for cricket as he bowled to him in the backyard. Les Clarke owned an indoor sports centre and coached half the teams from age six to 14 in the western suburbs.
Neil D'Costa, who coached at Les Clarke's sports centre, took the nine-year-old Clarke junior under his wings. His obsession for the game, especially for batting, was evident even at that age and his father had to haul him after he scored a century to give other boys a chance.
Clarke made his debut for the Western Suburbs at 16 and went on to play for the under-17 and under-19 New South Wales and Australia teams. His debut for New South Wales came when he was 18. He climbed the steps consistently till the century in the first Test of the just-concluded series in Bangalore, when he confirmed his special talent to the world.
| | |
| --- | --- |
| | Also Read |
| | |
"It was great to start my career with a hundred. But that was just the result of all the hard work and sacrifices I had put in," he said, "I don't know where I get the confidence from. I just love playing cricket. It's a great sport and it is what I wanted to do all my life."

Talking about the smile and screech at 98 as he neared his maiden Test hundred [in the first Test against India at Bangalore], he said, "I was very nervous then. Adam Gilchrist just came over and told me to stay confident like I had all the time."

In a team full with players well above 30 (Michael Kasprowicz, with a straight face, had said the average age of the side is 36) Clarke, at 23, is the 'Pup'; the boy everybody likes to pet, and scold at when he does his nervous jigs before going in to bat.

"My teammates are always telling me to sit down because I'm making them nervous."

In fact, just two years ago he was a distant admirer of all the established names in the Australian team. He idolised Ricky Ponting and hung posters of Damien Martyn and Brian Lara in his room. Now that he shares the dressing room with his heroes, the walls have been plastered with "chicks."

"It is unbelievable. This year I was in the car with Warnie [Shane Warne] in Hampshire and I told him that two years ago I would have done anything in the world just to meet him. And here we are talking like best mates. It happened so fast."

He made his debut for Australia first in One-Day Internationals, in January 2003. In the tri-series in India last year he impressed with his confidence and timely breaks with his left-arm spin.

"The one-day series [in India] definitely helped me. It was a fantastic experience playing here, facing the spin bowlers and the big crowds. But there is a great difference playing in Tests.

"This has been a fantastic series for Australia. We have played very well and winning in India after 35 years is a great achievement. All the guys have given their best and the victory in Nagpur was very special.

"I wasn't even sure about playing in the first eleven when I was selected in the team. If Ricky [Ponting] hadn't been fit I wouldn't have played either; so him being not there was bad for Australia and bad for the team, but it was lucky for me. It was a dream come true for me when I first faced the Indian bowlers."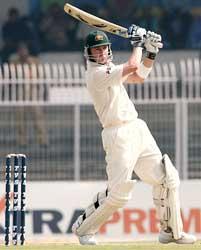 But bowlers never bother him. You ask him who is the hardest bowler he faced till now, and the reply comes after a lot of thought. He searches for a name, but it is pretty much non-existent.
"Not anyone, really. I just hit the ball," he said. Not trying to be too contemptuous, he added: "[Anil] Kumble and Harbhajan [Singh] are two of the best spinners in the world. But I enjoy facing spin bowling."
Sure, the whole world knows by now.
It was this spirit and discipline that endeared him to the Australian selectors. He did not force his way into the side with the weight of runs in domestic cricket (3,065 runs at 37.83) and would not have been there but for the selectors' instincts. Back home, when he was selected for the India tour, he was forced to endure an outcry, especially from Victoria, who had Brad Hodge and his average of 46.51 to drum about.
Then he went out and scored his highest first class score (151) in his first Test innings in Bangalore. In the subsequent innings he had scores of 17, 5, 39*, 91, 73, 17 and 7. Then, called upon to turn his arm for the first time, he claimed six wickets for 9 runs in the fouth Test as India were bowled out for 205 in the second innings.
As a result, Australia are now in a dilemma about whom to drop for the forthcoming tour of New Zealand.
Still a wide-eyed youngster, his dreams are similar to a thousand others. He wants to play cricket for the country, strike the ball in the yellow one-day jersey that has a number and his name printed on the back, meet David Beckham, and drive around in a dazzling red Ferrari.
Clarke is a rare talent, and even while realising his dreams he does not forget enjoying the everyday things.