The International Cricket Council has chosen Sri Lanka's star pacer Lasith Malinga as the official Event Ambassador for the World Twenty20 Championships to be held in the island nation from September 18 to October 7.
"Malinga, was selected as the Event Ambassador in recognition of his skills as a role model both on and off the field of play," the ICC said in a statement.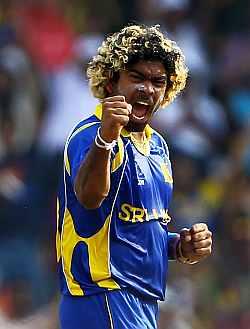 His "explosive bowling action" propelled Malinga to global fame and his distinct, stylish and colourful personality is synonymous with the intensity of T20 cricket, the world body added.
ICC CEO Haroon Lorgat said Malinga's popularity transcends Sri Lanka and he is ideal choice for the role.
"It is wonderful to have Lasith Malinga as the tournament ambassador for the ICC World Twenty20 to be held in Sri Lanka. Lasith is a special player and one of the most recognisable cricketers in the world.
"Whenever he runs in to bowl with his distinctive action there is a thrill in the game. I am sure he will add to the buzz that has already surfaced and crowds will flock to see players like Lasith represent their country in the ICC World Twenty20," he said.
Malinga will be the face of the event's advertising campaign in the host nation and will promote it globally as well.
"I am honoured to play a part in the first ICC World Twenty20 tournament to be hosted in Asia. As an ambassador, I hope to take the T20 message to all communities and passionate fans across the world," Malinga said.
"I sincerely thank the ICC for giving Sri Lanka the opportunity to host an event of this magnitude and I invite all cricket fans to show their support and unite in the spirit of the game," he added.