The Madras High Court on Wednesday ordered issue of notice to the state government and Tamil Nadu Cricket Association office-bearers, including its president N Srinivasan, on a petition which alleged irregularities in TNCA and sought appropriate action.
When the petition by a city-based cricket club affiliated to TNCA came up for hearing, Justice K K Sasidharan ordered notice to state government officials concerned and private notice to 25 office-bearers of TNCA returnable by June 17.
Special Pleader I S Inbadurai took notice for government.
C S Kadiresan, Honarary General Secretary of Bharath Cricket Club, in his petition alleged there were various irregularities in the running of TNCA.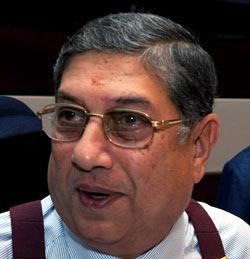 He alleged that while the rules of Board of Control for Cricket in India did not permit its office-bearers to have any stake in cricket playing institutions, they were "amended" and "tailor made" to suit the needs of the TNCA chief, who is also the president of BCCI, and his company.
"...the entire affairs of the TNCA was being mismanaged and being run prejudicial to the interests of the association just for the personal advantage and gain of the fifth respondent (Srinivasan) herein as an IPL franchisee," it said.
He also observed that his club along with six other clubs had made a representation to the state government on March 27, 2012 about the "mismanagement, mal-administration and improper functioning" of the Executive Committee of the TNCA.
Listing out various instances of alleged mismanagement and misadministration by TNCA, the petition sought a direction to government officials concerned to take appropriate action against the Executive Committee members of the TNCA, on the basis of its representation.
The petition has been filed three days after Srinivasan 'stepped aside' as BCCI president till the completion of investigation by a board appointed panel into IPL spot-fixing scandal in which his son-in-law and Chennai Super Kings team principal Gurunath Meiyappan was also arrested by Mumbai Police before being released on bail.
Photograph: Jack Dabaghian/Getty Images for ICC