- 'Indian batting is better capable of handling Pakistan pace attack than Pakistan batting is capable of handling Indian attack.'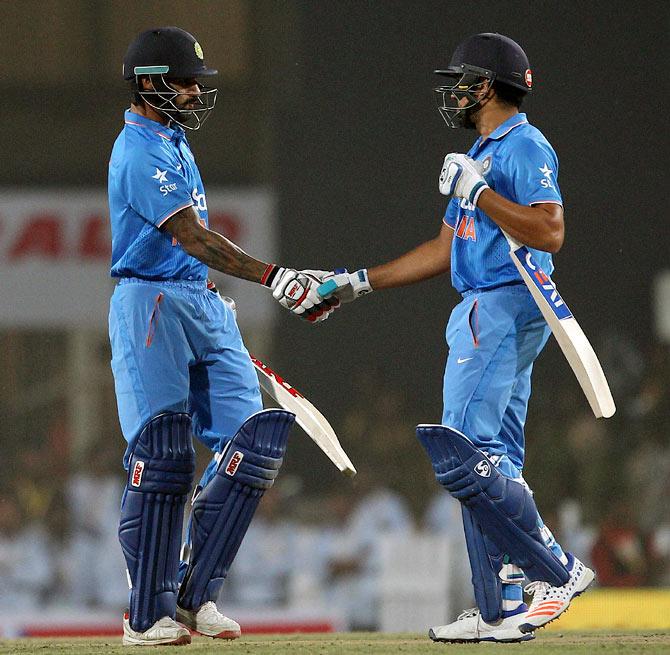 IMAGE: India's openers Shikhar Dhawan (left) and Rohit Sharma. Photograph: BCCI
Former India skipper Sunil Gavaskar feels Indian batting is equipped to handle Pakistan pacers, who will have to deal with the dashing opening duo of Rohit Sharma and Shikhar Dhawan when the arch-rivals clash in Asia Cup in Mirpur, on Saturday.

"Pakistan will have to deal with Rohit Sharma and Shikhar Dhawan, both have been in good form. Shikhar might not have scored runs in Bangladesh but he has done well against the Sri Lankans and Australians and Rohit has been simply outstanding. Virat [Kohli] will also figure in there but he might not get many overs if Rohit and Shikhar get going," said Gavaskar.

"India also have a good new ball attack with [Ashish] Nehra being the experienced campaigner. Jasprit Bumrah bowls the under the bat ball and he is very good with it and also Hardik Pandya also can be lively as well.

"So lets not get carried away with Pakistan's bowling attack and have faith in our new ball attack. Because in batting if you see, Indian batting is better capable of handling Pakistan pace attack than Pakistan batting is capable of handling Indian attack," the 66-year-old told NDTV.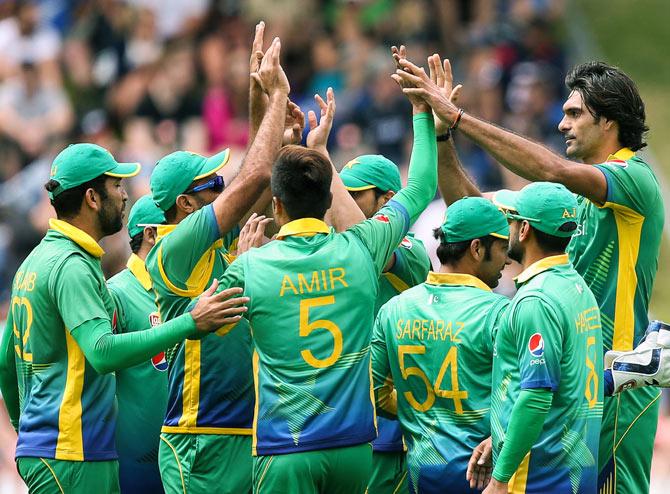 IMAGE: Pakistan's players celebrate a wicket. Photograph: Hagen Hopkins/Getty Images

India and Pakistan will clash in the World T20 opener on March 19 and Gavaskar believes Saturday's Asia Cup encounter will set the tone for that big match.

"India and Pakistan play in the ICC World T20 and they would want that campaign to be on a winning note as well. So, anything that happens in the Asia Cup, whether this match or if they meet in the final, will set the tone for that match as well, it will set the confidence level for both the teams. So, this match will be vital," he said.

India have already kicked off their World T20 preparations in style, having won six out of the seven games played so far, including their 45-run win over Bangladesh in the opening match of the Asia Cup.

However, Gavaskar cautioned Mahendra Singh Dhoni and his boys against complacency.

"We should not get carried away with India's performance. Pakistan too are in T20 mode as they played in Pakistan Super League. They are ready, they know how big this match is. India will do well if they don't take it easy," he said.

Talking about Mohammad Aamir, who recently made a comeback to Pakistan team after serving a five-year ban for spot-fixing, Gavaskar said: "The fact that he has already played recently will make him feel much better. He will take a little time to settle down in the team.

"But this is the first time he is playing a T20 against India. So I want to see how he reacts and responds to the challenges of the India-Pakistan encounter," he added.