Former Indian cricket captain Anil Kumble will deliver the second annual Mansoor Ali Khan Pataudi Memorial Lecture on November 13 in Mumbai.
Kumble, India's highest wicket-taker in Tests and ODIs, is only the second bowler to take all 10 wickets in a Test innings. He led India in 14 Tests.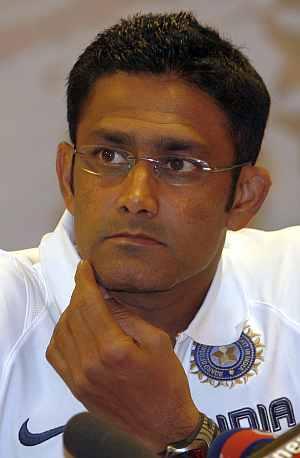 "Throughout his international career, which spanned 18 years from 1990 to 2008, he excelled in pressure situations. He is presently the Chairman of the BCCI's Technical Committee, and the ICC Cricket Committee, besides being the President of the Karnataka State Cricket Association," BCCI Secretary Sanjay Patel said in a statement.
"The sterling qualities that Kumble has epitomised, as cricketer, leader and administrator, make him the perfect candidate to deliver the lecture, which was instituted by the BCCI in honour of an individual who battled many a crisis successfully, and instilled self-respect and a fighting spirit in the Indian cricket team of his time," he added.
Kumble said he feels honoured to have been picked to deliver the lecture, instituted in memory of the legend, who passed away in 2011.
"It will be a great honour to deliver the second MAK Pataudi Memorial Lecture. Tiger Pataudi was one of those who shaped the history of Indian cricket, by leading from the front. We will always be indebted to him for his impact on Indian cricket, as a player and leader," Kumble said.
The annual MAK Pataudi Lecture is an integral part of India's cricket season. It has been envisaged as a forum for a speaker from across the world to share his thoughts on the game, as a way to help evolve it further.
Pataudi, known to the cricketing world as 'Tiger', represented India in 46 Tests from 1961-62 to 1974-75, and scored 2,793 runs, inclusive of six centuries.
He captained the national side in 40 Tests and was in charge when India registered their first-ever Test series win on foreign soil, in New Zealand in 1967-68.
"The memorial lecture is a humble recognition of his contribution to the sport."
The Lecture will be attended by the India and West Indies cricket teams, members of the Pataudi family, former India captains, cricketers who played Tests alongside and under Pataudi, current and former office-bearers of the BCCI, senior representatives of the BCCI's Affiliated Units, and other select invitees.
The Lecture will be telecast live on the Star Sports Network.
The inaugural Mansoor Ali Khan Pataudi lecture was delivered by Sunil Gavaskar, former India captain, in Chennai.