The BCCI and Anil Kumble were at loggerheads on Tuesday over the exact reason for the former Indian captain's sudden resignation as the chairman of the National Cricket Academy (NCA).
-  I did not want to be just a figurehead: Kumble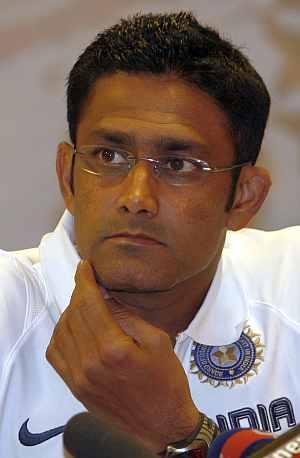 While Kumble maintained that he quit the post as he did not want to be just a "figurehead" when none of his plans found support from other committee members, the BCCI questioned the former captain's claims.
It is learnt that a software program to monitor the injury management of the players is the reason for the fallout, prompting Kumble to step down from the position barely 15 months after he took charge.
"Kumble's software proposal for injury management was found to be too costly. It was just not feasible. Kumble wanted a certain software company to handle the project", a top BCCI source said.
It is also alleged that Kumble would have got a commission from the software company.
Sources said that Kumble had made a similar proposal through his company Tenvic a few months back for an estimated cost of about Rs 15 crore.
Kumble, 41, however said that his plans did not get the support from other committee members and he had no choice but to step down.
Punjab Cricket Association's general secretary M P Pandove will be the caretaker chairman of the NCA till a full-time appointment is made
Kumble is also the president of the Karnataka State Cricket Association, a mentor with the IPL team Royal Challengers Bangalore and has his own company Tenvic which manages Karnataka players like R Vinay Kumar and Sreenath Aravind.
Interestingly, a few months back, there were reports of Kumble having 'conflict of interest' being the KSCA president who also happens to own a company that manages some of Karnataka's top cricketers.