India 'A' selection a step closer to national team, says Krunal Pandya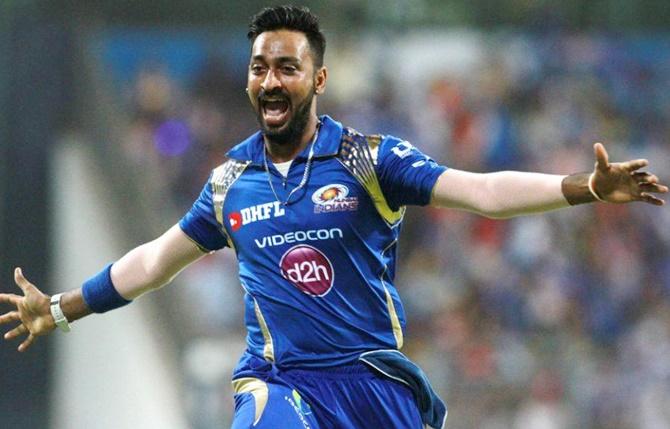 Mumbai Indians all-rounder Krunal Pandya, on Saturday, termed his selection in the India 'A' squad for the tour of England as a 'step closer' to realising his dream of playing for the senior team.
"It feels really good. Last year after the IPL, I got picked for the India A's tour of South Africa. It was a good tour for me. The ultimate dream is to represent India and that is still there," Pandya told reporters when asked about his India 'A' selection.
"And it is just one step closer to the senior team. I will try to give my best when I go there (to England) but right now this is an important stage of the tournament (in IPL). I want to do well for MI first and then I will see how it goes," the all-rounder noted.
Krunal has scored 189 runs in 11 matches and bagged 11 wickets with his orthodox left-arm spin.
The Baroda all-rounder also said that the Mumbai Indians in the latter half of the tournament grabbed their opportunities and started winning games.
It is a do-or-die game for both Mumbai Indians and Rajasthan Royals but Krunal wants to take one match at a time.
"We will be going match by match and that's how we have played from the first game itself. Obviously, in the initial few games, the results didn't come our way but it is not that we were playing badly. We were playing good cricket but couldn't win the crucial moments in the first few matches," he said.
"And in the latter half, the same thing happened. We were in the same situation and we grabbed those opportunities and we started winning games. We are not thinking about where we are right now in the points table. We are just taking one game at a time and we will see how it goes," he added.
According to Krunal, the Rohit Sharma-led side has always played their best cricket when they are almost down and out.
"Mumbai Indians is known for that. When you're pushed to the wall, then you come out with your best. Somewhere down the line over a period of time, Mumbai Indians have played their best cricket, when they have been down and out."
"I hope we continue that because now for the last three games and every game is a do-or-die encounter. But as I said, we'll take it game by game and see how it goes," he noted.
Krunal conceded that Englishman Jos Buttler, who is in prime form and made an match winning unbeaten 95 against Chennai Super Kings on Friday night, was crucial player for the Ajinkya Rahane-led team. He expects law of averages to catch up with Buttler.
"If you see the positive side, he has been consistent for the last 3-4 games, so he's due for one bad game. So I see it in that way like as an opponent," Krunal signed off.