- 'I'm very confident I'm going to be involved in the India series, it is a frustrating injury, something I want to get right, but it does happen in cricket.'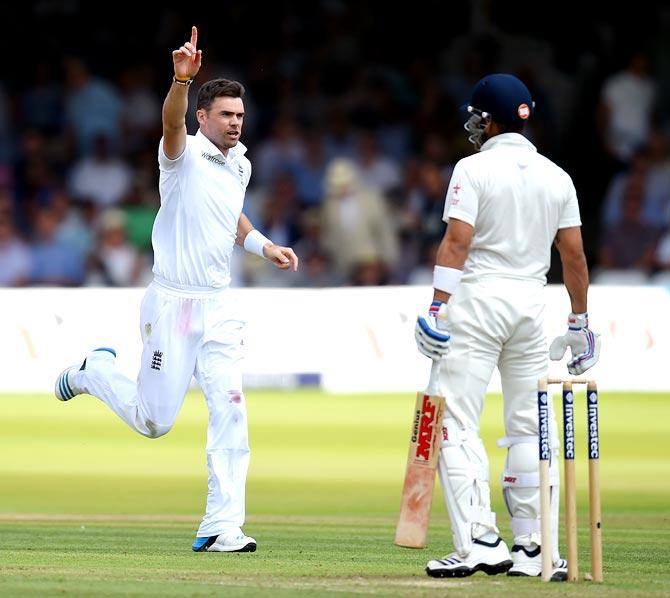 IMAGE: England fast bowler James Anderson, left, celebrates after taking the wicket of Virat Kohli during the second Test at Lord's on July 17, 2014. Photograph: Stu Forster/Getty Images
England seamer James Anderson is confident he will be fit to play some part in the team's Test tour of India starting in November after sitting out this month's two-match series in Bangladesh with a shoulder injury.

The 34-year-old, England's most prolific wicket-taker in Tests, sustained a stress fracture during the home series against Sri Lanka in June, although he did play three matches against Pakistan in July and August.

He was ruled out of England's Tests in Bangladesh after aggravating the injury to his left shoulder blade that caused him to miss the first Test against Pakistan.

"I feel fine," Anderson told ESPNcricinfo at Lord's. "It's a frustrating injury where everything feels good, the rest of my body feels great, but as soon as I try to bowl I've got a bit of pain there.

"It's something that's going to take a few more weeks to rest and recover. I've got another scan in three weeks to see if it's healed enough for me to start bowling."

England's director of cricket, Andrew Strauss, recently said he is unsure when Anderson would return to the side with the five-Test series against India starting in Rajkot on November 9.

Anderson, who has amassed 463 wickets in the five-day format, hopes to be fully fit to take on the world's top-ranked Test side in conditions that are unlikely to assist the pacemen.

"I'm not going to miss the entire trip, no," he said.

"I'm very confident I'm going to be involved in the India series, it is a frustrating injury, something I want to get right, but it does happen in cricket.

"In sport, you get injured, you've just got to deal with it and hopefully I can get as fit as possible as soon as possible."
Anderson was instrumental in England 3-1 victory against India in the five-match Test series in UK in 2014. He finished with 25 wickets in the series, while accounting for India's batting mainstay Virat Kohli four times in five Tests.