'The way he has batted everywhere, and in the last year he has just been brilliant.'
'He will keep taking the team forward and that is what you want from a leader.'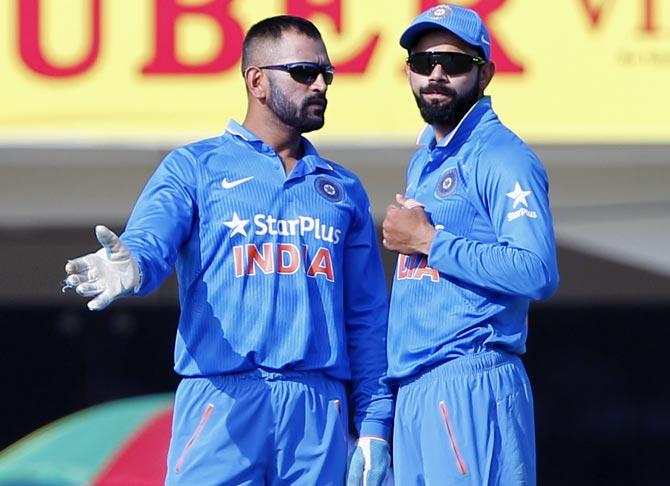 Former India captain Mahendra Singh Dhoni rates his successor as the best batsman in world cricket and believes India is lucky to have a leader like him, who believes in leading from the front.
"He is the best and he has already reached a status where he is close to being a legend. I am very happy for him," Dhoni said in Mumbai on Tuesday, at the launch of Run Adam, an analytic based sports platform that empowers promising athletes.
Dhoni has taken a 25 percent stake in his personal capacity in the bootstrapped tech-company and is expected to play a vital role as the mentor and brand ambassador of Run Adam.
Kohli hit a brilliant century followed by a fifty in the first Test against England in Birmingham and deservedly rose to the top ranking in the ICC Test rankings.
"The way he has batted everywhere, and in the last year he has just been brilliant. He will keep taking the team forward and that is what you want from a leader. All the best to him and I am very, very happy for him," Dhoni stated.
Despite losing the first Test by 31 runs, Dhoni is encouraged by India's showing, especially with the bowlers who bowled out England twice in the game.
"To win a Test match you need 20 wickets and we did that. It does not matter about how well you bat, how well you play for five days but if you take 20 wickets you will win a Test match," he said.
The Internet was abuzz with rumours of Dhoni's retirement after he sought the match ball at the end of the third ODI against England in Leeds last month.
Dhoni, India's most successful skipper across all formats, quashed the rumours saying he asked the ball from the umpires for a particular reason.
"You actually have to keep working and see what really is happening. That was to see why we were not able to get reverse swing. We will be playing the World Cup in England, so what do we have to do to get reverse swing going because that is something very important. The opposition is getting it and we should also get it at some point or the other and that is why I kept the ball," Dhoni said.
"After 50 overs, the ball is useless so I requested the umpire for the ball and I gave it to the bowling coach and told him that we need to work on how we can get it more scuffed up so that we can get a bit of reverse swing going, that will in turn help the fast bowlers get those yorkers and take the wickets after the 40th over mark."
"That will help us restrict the opposition by not giving too many runs in the last 10 overs," he added.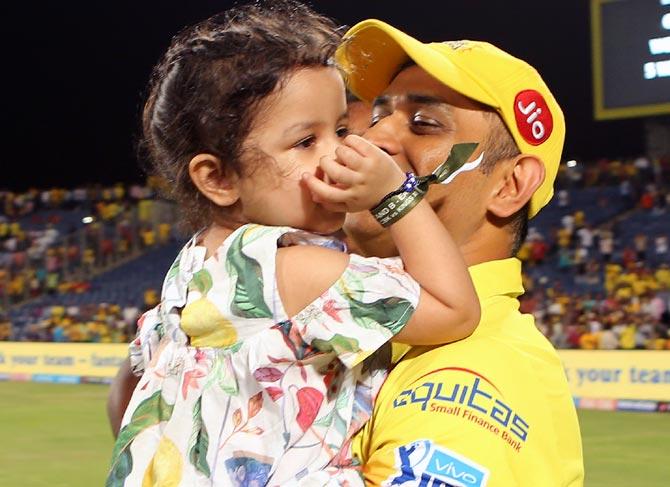 Dhoni also revealed how his cute daughter Ziva has been a positive influence on his life in the last few years.
And her dad is delighted to see her steal the limelight.
Ziva is a sensation on social media, boasting more than 500,000 followers on Instagram.
"Irrespective of whether I like it or not, she gets a lot of attention. Wherever I go, people keeping asking for her and I am nowhere in the scene right now and they will ask where is Ziva, what is she doing and all that."
"It is good to have someone like her around, who is a livewire. She is somebody who once she gets up in the morning, is always on the move and she is very careful about what she does, so we are not worried that she may get hurt by doing something."
"It feels good to someone around who can ease the stress by not really pushing us to think anything. She is just three-and-a-half, but she already has her own character and she talks in a particular way and it is good to have a daughter who is always around."