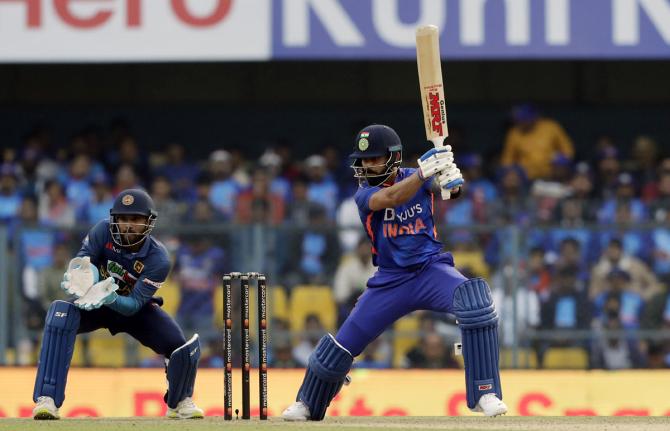 Indian superstar Virat Kohli slammed his 45th ODI century, his 20th on home soil to equal Sachin Tendulkar's record.
The batter accomplished the landmark during India's first ODI against Sri Lanka at Barsapara Cricket Stadium in Guwahati.
Virat's 20th ODI ton at home saw him equal Tendulkar's record for most tons in his home country. While Sachin scripted the record in 160 innings, Virat took only 99 innings to go level with Tendulkar.
Overall his 73rd in international cricket on Tuesday.
Kohli said he made most of the lucky escapes -- he was dropped twice before he got to the landmark.
"I have had a bit of break, and a couple of practice sessions coming into this game, so I was fresh after that Bangladesh tour. I was excited for home season to start. The openers allowed me to get into the game and I tried to keep my strike rate in check. I was happy I was able to maintain the tempo and we finished with 370," said Virat in a post-innings presentation.
"I would take those (dropped chances) any day. Luck plays a big part, you need to thank god on such evenings. These evenings are important, pretty aware of that. Thankful that I made the most of that luck presented to me. I helped the team get 20 runs extra, rather than 350. It is going to be the same thing," added Kohli on being dropped twice.
"Someone will have to score a 150, or 140 to chase this down. But it also gives our bowlers a chance to bowl with dew coming into play. I am quite aware of what I eat, diet is the most important thing at this age. That keeps me in prime shape. That helps me give my 100 per cent for the team," concluded Virat.
South Africa's Hashim Amla (14 tons in 69 innings) and Ricky Ponting (14 tons in Australia in 151 innings) also are in the list for most ODI tons in home conditions.