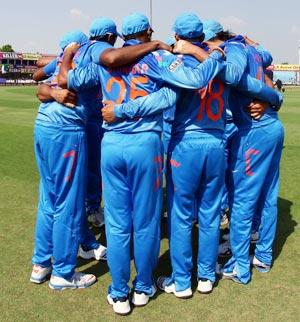 Kanpur looks set to host the third One-Day International between India and the West Indies, after the Baroda Cricket Association expressed its inability to get the IPCL stadium ready in time for the November 27 match.

The Green Park stadium in Kanpur will host its first international after a wait of four years. The last international game at this venue was the Test between India and Sri Lanka in November 2009, which the hosts won by an innings and 144 runs.
- Australia unhappy with Kanpur; BCCI may shift Test

India host the West Indies for a two-Test series, which will be followed by a three-ODI series next month.
While the Tests will be played in Kolkata, from November 6-10, and Mumbai, from 14-18, the first two One-Day matches will be held in Kochi and Visakhapatnam on November 21 and 24 respectively.
With Baroda opting out, Kanpur will host the third and final ODI on November 27.

West Indies team manager Richie Richardson inspected the Green Park stadium on Wednesday, along with Uttar Pradesh Cricket Association president Rajiv Shukla, who is also vice-president of the Board of Control for Cricket in India.

BCCI's chief administrative officer Ratnakar Shetty had visited both venues last week and suggested certain changes to the IPCL stadium. However, the Baroda Cricket Association expressed its inability to make the required changes in time for the third match and conveyed the same to the BCCI.

Kanpur was deprived of hosting international matches on three previous occasions because of lack of preparation.

The One-Day International between India and South Africa in February 2010 was shifted to Gwalior because construction work was incomplete, and later that year, in November, the Test between India and New Zealand was also moved away from the venue.

The Test between India and Australia in Kanpur was moved to Hyderabad after Cricket Australia expressed displeasure over the state of the ground.
Photograph: BCCI