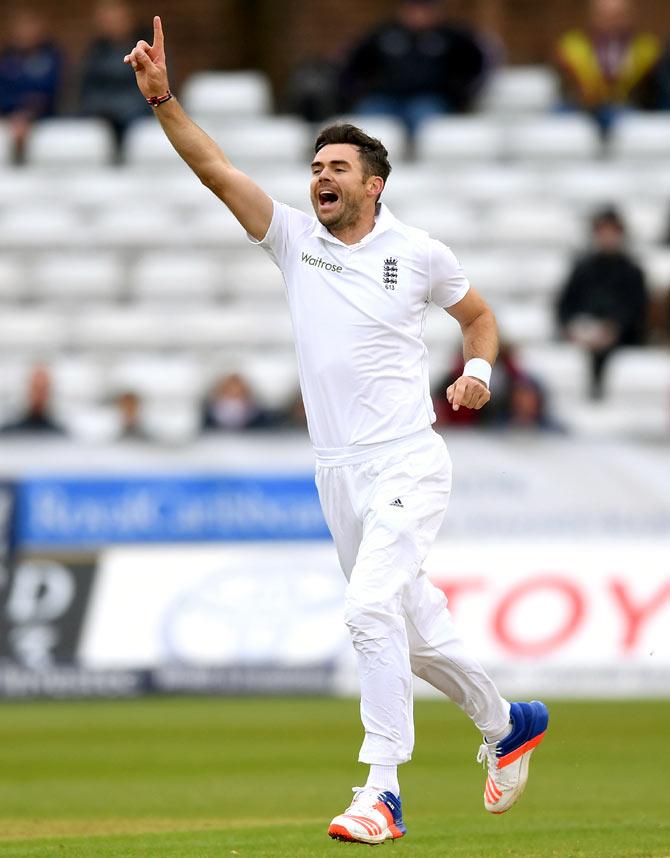 IMAGE: England pacer James Anderson celebrates after taking a wicket. Photograph: Gareth Copley/Getty Images.
James Anderson will join England's Test squad in India next week, and is increasingly hopeful of playing a significant part in the five-match series after making encouraging progress in his recovery from a shoulder injury.

He has been ruled out of the opening Test starting in Rajkot, on November 9, but is likely to be available for the second Test which will be played in Visakhapatnam from November 17-21.

The fast bowler missed the drawn series in Bangladesh because of a stress fracture in his right shoulder and has not played since the last Test against Pakistan at the Kia Oval in mid-August.

"But he has been steadily rebuilding his fitness, confidence and pace over the last two weeks by bowling on the grass surface in the heated marquee outside the National Cricket Performance Centre in Loughborough, and was cleared to head to India to complete his recovery after a final test on Friday morning," said England and Wales Cricket Board on their website.

"Anderson is set to arrive in Rajkot on Tuesday, ahead of England's first ever Test in the Gujarat city. That would obviously be too late for him to be considered for the first Test at the Saurashtra Cricket Association Stadium, but his early arrival will allow him to begin acclimatising to subcontinental conditions, as well as training with his England team-mates and working with the England coaching staff on the tour," it added.
"It's a credit to the hunger he has shown to get back," captain Alastair Cook told the BBC. "There's nothing more he can do, apart from coming out here and getting acclimatised and get some more overs in."

"Really good news about Anderson. He has worked hard to get back. He's got the all clear. Just chatted with him yesterday and the day before. (Him playing in the) second Test (at Vizag) is a good possibility. We will know more after seeing how his body reacts," said Cook at the media interaction in Mumbai on Saturday.

Cook said Anderson's experience of playing in Indian conditions will come in handy for the other players in the squad.

"His experience of these conditions and the number of wickets he has got in all types of conditions will only help the other guys."

Asked about lack of match practice for the 119-Test veteran as he heads to India straightaway to take part in a gruelling series, Cook conceded it is not a perfect scenario.

"It's certainly not ideal. But he's well aware of the challenge. He needs to get some overs and get some miles in his legs," said the England opener.

Team's head coach Trevor Bayliss also felt Anderson's arrival will boost the team.

"To get anyone back with that experience and that many wickets will be very good for everyone. He has the experience of bowling in these conditions," said Bayliss.

Anderson had said last month that he is confident of playing some part during the five-match Test series in India.

"I'm not going to miss the entire trip, no," he said.

"I'm very confident I'm going to be involved in the India series, it is a frustrating injury, something I want to get right, but it does happen in cricket.
"In sport, you get injured, you've just got to deal with it and hopefully I can get as fit as possible as soon as possible."

The 34-year-old, England's most prolific wicket-taker in Tests, sustained a stress fracture during the home series against Sri Lanka in June, although he did play three matches against Pakistan in July and August.
Anderson was instrumental in England 3-1 victory against India in the five-match Test series in UK in 2014. He finished with 25 wickets in the series, while accounting for India's batting mainstay Virat Kohli four times in five Tests.