Delhi & Districts Cricket Association (DDCA) president Arun Jaitley has decided against contesting the upcoming state association elections scheduled on December 30 paving way for his confidant Sneh Bansal to take on legendary Bishan Singh Bedi in a prestigious fight.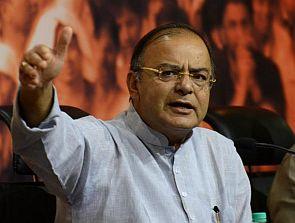 BJP heavyweight Jaitley, who is also the leader of opposition in the Rajya Sabha, relinquished his post of BCCI vice-president earlier this year due to his busy political commitments. It is believed that the busy political calendar led to Jaitley deciding against contesting the elections.
Jaitley has however filed his nominations for an executive committee membership which won't require much of his time but will keep him associated with the game.
But according to reliable sources in DDCA, Jaitley's "blessings and good wishes" are with Bansal, who enjoys the support of voters as Bedi might find it difficult to pull it off in his favour.
Former India all-rounder Madan Lal will be fighting for the sports secretary's post against current incumbent Sunil Dev while another former India wicketkeeper Surinder Khanna will take on current joint secretary Anil Khanna and Chetan Chauhan, who has also filed nominations for the vice-president's post.
"I have filed the nomination and will fight the elections," Madan Lal confirmed on Sunday. From the opposition faction, another former Delhi stalwart and national selector Aakash Lal along with National Capital TerritoryCA official Sameer Bahadur will fight for vice-president's post.
Former Test players Gursharan Singh and Abbas Ali Baig are also among the 148 people who are fighting the elections against the ruling group.
Kirti Azad, a BJP MP and the leader of the anti-Jaitley faction claimed "moral victory" after it became official that his senior party colleague won't fight the DDCA elections.
"We thought that Mr Jaitley would fight the elections but now that he is not contesting, I believe that it is our moral victory irrespective of the results. Our panel consists of distinguished cricketers. I didn't file my nominations as I didn't know that Mr Jaitley would be filing for the executive committee," Azad said.
Key Contests
President's Post: Sneh Bansal vs Bishan Singh Bedi
Vice-President's Post: (Ruling group) CK Khanna, Chetan Chauhan vs (Opposition) Aakash Lal, Sameer Bahadur
Joint Secretaries: Chetan Chauhan, Anil Khanna (Ruling) vs Surinder Khanna (Opposition)
Sports Secretary: Sunil Dev (Ruling) vs Madan Lal (Opposition).