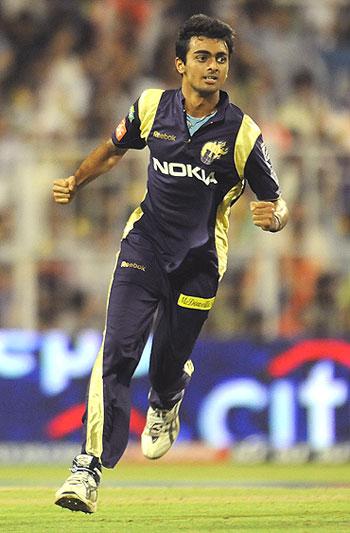 If his exciting talent and the rich encomiums showered on him by the likes of Wasim Akram and Sourav Ganguly are any indication, then India may have unearthed a potentially world-class fast bowler in Jaydev Unadkat.
The left-armer from Saurashtra, who hasn't featured in a single Ranji Trophy match yet, is already been spoken of highly by many of those who have seen him in action.
Not surprisingly, when Zaheer Khan and S Sreesanth were injured, skipper MS Dhoni and coach Gary Kirsten wanted him and Umesh Yadav to be in Sri Lanka as net bowlers.
Though Unadkat had been fairly successful on the India A side's tour of England and Scotland, despite that he had "not expected" to join the senior team to bowl to the very players he grew up "idolising".
"I was pleasantly surprised, but extremely happy at the same time, when I was told to join Team India in Sri Lanka as a net bowler. Although it's a fact now, I still can't believe I've been bowling to the greats like Sachin Tendulkar, Rahul Dravid, Virender Sehwag and others.
"Even if I've been bowling to them in the nets only and not actually playing with them, it seems like a dream really. The joy, the experience, are simply indescribable. I'm grateful to all concerned for giving me this golden opportunity," said an elated Unadkat from Sri Lanka.
Creditable performance for Saurashtra in national junior cricket earned Unadkat a regular place in India's Under-19 team, including for the World Cup in New Zealand, in January 2010, where he spearheaded the attack and impressed with his speed, swing and variations. What followed was a lucrative Indian Premier League contract with Kolkata Knight Riders.
Initially he was in the KKR development squad and would bowl in the nets. However, KKR skipper Ganguly and bowling coach Akram were so impressed that they ensured he always travelled with the main team. "This young kid in our side is the one to watch out for. He is lean like I was when I was about 17 or 18 years old. He is hard-working, swings the ball both ways and I think we'll hear about him in a couple of years," declared Akram.
While Unadkat "never expected" to play in any match, both Ganguly and Akram told him to be "mentally prepared". But it was not before long that Undakat got his opportunity -- against Kings XI Punjab at Eden Gardens in Kolkata on April 4.
But he had a forgetful IPL debut, as Mahela Jayawardene simply hogged all the limelight with a blistering 110 not out chasing an imposing victory target. Unadkat went wicket-less for 32 runs in his 2.2 overs.
But Ganguly was there to support the youngster. "Don't be upset. Take it easy. Such things happen. You must learn to handle pressure. You'll get another chance to prove your worth," said Ganguly to Unadkat, who was unable to hide his disappointment.
True to his word, Ganguly gave the youth one more chance, against Rajasthan Royals at Eden Gardens on April 17. He played a significant role in restricting Shane Warne's side to 132 for 9 in 20 overs. He first picked up three vital wickets for 26 runs in 4 overs, then a catch and a run-out to round up his impressive display.
Unadkat soon found himself in the India A squad, led by his Saurashtra team-mate Cheteshwar Pujara, on the recent tour of England and Scotland, where he launched his first-class career in a grand manner against West Indies A at Leicester, claiming 7 for 41 in the first innings and 6 for 62 in the second.
He kept bowling well and along with Pujara, he was one of the Indian players who frequently got a generous mention in the British newspapers. An SOS from Team India in Sri Lanka has been a just reward for the quiet, thinking speedster.
"The England tour was a learning, and also rewarding in terms of wickets, experience for me in many ways. Taking a bagful of wickets on my first-class debut also boosted my confidence. The pitches were quite good for a bowler like me. But then we're also up against many international players and it was quite a challenge bowling to them," said Unadkat.
Indeed, things are happening too soon in the still budding career of the unassuming Unadkat, who hails from Porbandar, birthplace of Mohandas Karamchand Gandhi. This port town may have failed to preserve the legacy of the Father of Nation and attained notoriety as a desi version of Bronx and a haven for gangsters and mafiosi (remember Santokben Jadeja alias Godmother?), but it has a rich cricket culture of its own. Why, there is the old Duleep School of Cricket, founded by Porbandar's erstwhile ruler Maharana Natwarsinhji in 1947, to inspire aspiring players.
Natwarsinhji held sway when the royalty, including those from Saurashtra, called the shots in Indian cricket. Few people know that Natwarsinhji and his brother-in-law Kumar Shri Ghanhyamsinhji of Limbdi were captain and vice-captain of the Indian team that toured England to play its maiden Test at Lord's in 1932. They were average cricketers, unfit to play even club cricket. And they knew it! To his credit, Natwarsinhji asked C K Nayudu to lead the side in the historic Test. Interestingly, the original captain was Maharaja Bhupinder Singh of Patiala and he, too, was only a mediocre cricketer. But he could not accompany the Indian team, and had to drop out for some reasons. Thankfully!
Seeing Unadkat's passion and natural talent for the willow game when he was 10, his father Dipak Unadkat, a civil engineering professor and principal in a government polytechnic in Junagadh, sent him to Duleep School of Cricket, where he honed his skills under the watchful eye of Ram Odedra, a former Ranji Trophy player from Saurashtra, who is now a respectable coach. It did not take Odedra much to notice that he had got a genuinely gifted player under his wings.
"The first thing I noticed about Unadkat was his good height [6ft 1in] and natural ability to bowl quick. He could also bat fairly decently, but I advised him to concentrate on fast bowling because I was convinced this was where his true genius lay. He was a good listener and quick learner. For one so young, his ball sense was pretty good. I advised him to make the most of his height and never lose control over the ball even when punished by the batsman," Odedra told rediff.com.
"Of course, he has still a lot to learn and try to make his physique in particular a bit stronger. I'd be the last person to judge him by his performance in Twenty20 cricket, howsoever good. But then he has also been very impressive in matches of longer duration in junior national and international cricket. I wasn't there when he made his first-class debut in England. But he has been in constant touch with me. I think he bowled really well in England and Scotland, not just on his first-class debut against West Indies A," he added.
"He has continued to work hard at his bowling and the results are there for all to see now. He is already quick and is capable of generating extra pace on pitches conducive to fast bowling. He hits the seam nicely, makes good use of the crease and swings the ball either way. He has a fine action with a matching follow-through.
"He is a very level-headed cricketer. With the Indian selectors grooming him ideally, he is bound to go places. I for one won't be surprised if he plays for Team India from two years from now. He should be fully mature and quite experienced by then," he added.
Unadkat never misses an opportunity to emphasise how much he has learnt from Akram, who would often bowl in the nets to demonstrate and prove a point or two. "Being a left-arm bowler myself, I've been able to put into practice many invaluable tips from Wasim Sir. He has taught me how to use the wrist effectively while bringing the ball in or out. He has also taught me how to make judicious use of the crease and bowl an effective slower delivery from time to time. I'm really thankful to him for all his advice and guidance. I've always found him to be very encouraging; he is ever ready to help anybody who wants to learn something," stresses Unadkat.
A Libran (D.O.B. October 18, 1991), Unadkat has been a bright student with an excellent track record. An alumnus of St Mary's School of Porbandar, he passed with flying colours both the 10th and 12th examinations conducted by the Gujarat Secondary Board. "Till he cleared his 10th examinations with more than distinction, he was in a dilemma whether to become a professional cricketer or pursue his studies and make a name for himself in a different field. But considering his sporting talent, I advised him to continue to seriously pursue cricket and strike a balance between sport and studies, which he has done so well," reveals Odedra.
"Despite being a busy cricketer, Unadkat has always proved to be a brilliant student. He wanted to join a science college for a BSc degree after passing his 12th examinations. But he eventually decided on pursuing a degree in commerce. At present he is doing his first year BCom in Ahmedabad's HL College, though he couldn't take his annual examinations for want of time."
So, what does the future really hold for Unadkat? "He has to continue to work hard towards improving his bowling further. With more work and regular exercise, he can also develop his body. He is still in his teens and has to learn many things. He has it in him to be a good fast bowler and I see a good future for him," feels Ganguly.
"I think Unadkat is one of the most promising young pace bowlers in the country today. I've played a lot of cricket with him, both for Saurashtra and for India, and I've always marvelled at his ability to learn things quickly. He bowled some really good spells for Saurashtra in the Ranji Trophy one-dayers in the last season and he was very impressive in all forms of cricket on the India A team's recent tour of England and Scotland. While playing within his limitations, he knows how to make the most his plus points such as height, ability to bowl quicker and bring the ball in and out. A very bright future beckons him," says Pujara.