Contrasting centuries from Shikhar Dhawan and Ajinkya Rahane helped Rest of India reach a commanding 400 for three against Rajasthan at stumps on the opening day of the Irani Cup match.
While Dhawan sent the below-par Rajasthan attack on a leatherhunt scoring a magnificent 177 off 165 balls, Rahane continued his good form of England tour scoring a patient unbeaten 117 off 212 balls.
The greenish tinge of the Sawai Man Singh Stadium strip didn't make much of an impact after Rest skipper Parthiv Patel decided to bat first.
Deepak Chahar who made a sensational first-class debut last year had a disastrous start to the season as Dhawan pounced on him during the first spell. Chahar lacks pace and didn't get sufficient movement to force the batsmen into making mistakes.
When he pitched up, Dhawan drove him through the mid-off region, if it was wide it was fiercely square cut and when he dig it in, the Delhi southpaw was in perfect position to execute a pull-shot. With rookie left-arm seamer Aniket Choudhary making his debut, Dhawan and Abhinav Mukund (18) added 77 runs for the opening wicket.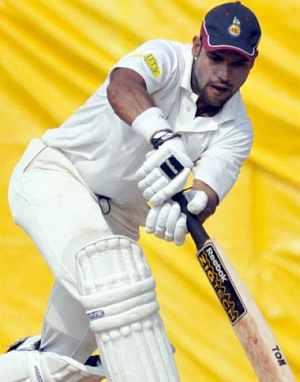 Mukund was however not in his element as he remained unusually subdued. It was one-change bowler Sumit Mathur (1/65) who dismissed Mukund when the Tamil Nadu batsman was played on trying to open the face of his bat.
Dhawan however batted with a lot of swagger as he hit 32 boundaries and a six in all. Dhawan got a reprieve on 80, when he miscued a pull shot off Aniket's bowling and Chahar misjudged a skier.
Rahane proved to be a perfect foil for Dhawan as he didn't play any risky shots. Initially, he gave Dhawan most of the strike. The India A captain reached his 11th first-class century when he swept off-spinner Madhur Khatri for a couple and celebrated the ton by lifting the spinner for a six.
His 100 came off 122 balls and his next 77 runs came off only 43 balls as he tore into the Rajasthan bowlers.
Dhawan and Rahane added 190 runs in 37.2 overs before the former tried a wild slog sweep off Khatri to be clean bowled.
Manish Pandey (16) didn't stay long enough as he was Aniket's maiden first-class wicket being plumb-in-front.
Rahane was joined by skipper Parthiv Patel and the Mumbai batsman suddenly upped the ante using his feet to good effect against the spinners. A copybook straight drive brought up his 18th first-class century off 182 deliveries.
Parthiv on the other hand also got some much needed batting practice ahead of the ODIs completing his 50 off 88 balls. The duo has together put 113 runs for the undefeated fourth wicket stand. As of now, it's looks highly unlikely that Rest will need to bat twice in this match.
Scoreboard:
Rest of India (1st Innings)
A Mukund b Mathur 18
S Dhawan b Khatri 177
A Rahane batting 112
Parthiv Patel batting 55
Extras: (b-4, lb-2, w-2, nb-9) 17
Total (For 3 wkts; 90 overs) 400
Fall of wickets: 1-77, 2-267, 3-287
Bowlers: Chahar 21-2-120-0, Choudhary 17-1-73-1, Mathur 18-3-65-1, Khatri 28-2-110-1, Menaria 1-0-10-0, Bist 5-0-16-0.