Off-colour Harbhajan Singh was dropped while young spinner Rahul Sharma and pacer Sreenath Aravind are the two new faces in India's depleted 15-member squad for the first two one-dayers in next month's ODI series against England.
Gautam Gambhir, who missed the ODI series on the tour of England because of concussion, returned to the squad, which will be without the services of a host of seniors, including Sachin Tendulkar, Zaheer Khan, Virender Sehwag and Yuvraj Singh, because of injuries.
Also read: 'I started off as a pacer who could bat a bit'
Vidharba pacer Umesh Yadav and Jharkhand speedster Varun Aaron also figure in the team, announced by the new Board of Control for Cricket in India secretary, Sanjay Jagdale, after a marathon meeting of the selection committee in Chennai, on Thursday.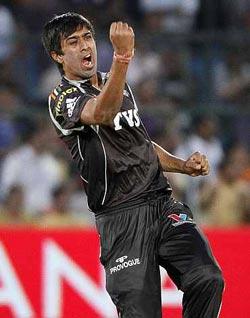 The team, to be captained by Mahendra Singh Dhoni, has a predominantly young bowling attack, with Praveen Kumar being the spearhead.
The selectors picked as many as five fast bowlers and three spinners in Ravindra Jadeja, R Ashwin and Sharma.
Parthiv Patel, who did reasonably well in the recent ODI series against England, was retained along with up-and-coming batsman Ajinkya Rahane of Mumbai.
The first ODI in the five-match series will be played in Hyderabad on October 14, while Delhi will host the second on October 17.
Mohali (Oct 20), Mumbai (Oct 23) and Kolkata (Oct 25) will stage the other three matches.
Kolkata will conduct the lone Twenty20 match against England on October 29.
The team: Mahendra Singh Dhoni (captain), Gautam Gambhir, Parthiv Patel, Ajinkya Rahane, Virat Kohli, Suresh Raina, Ravindra Jadeja, R Ashwin, Varun Aaron, Umesh Yadav, R Vinay Kumar, Sreenath Aravind, Rahul Sharma, Manoj Tiwary, Praveen Kumar.