Mumbai Cricket Association officials have rubbished Bollywood superstar Shah Rukh Khan's version of the fracas at the Wankhede Stadium that unfolded on Wednesday, saying his statement had no basis.
- Video: Shah Rukh says he was abusive, but not drunk!
-Listen to the SRK fracas at the Wankhede
"If that (abuse by MCA people) was the case, then why was the complaint lodged (against him). If he was not drunk then what was he inebriated with?" MCA treasurer Ravi Savant said on Thursday.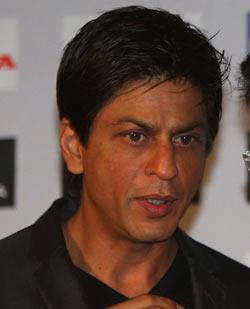 "It's not worth reacting. We had BCCI officials with us. We had police officers with us. We had MCA officials with us. I don't think I need to react to Shah Rukh's statement," said Savant.
Earlier in the day, Khan had denied at a press conference \that he was drunk and claimed the scuffle broke out after MCA officials manhandled his kids whom he had come to pick after the IPL match between KKR and Mumbai Indians on Wednesday.
The Bollywood star had an altercation with the security personnel and officials of the association after the Knight Riders had swamped Mumbai Indians, according to a police complaint lodged by MCA joint secretary Nitin Dalal with the Marine Drive police station after the ugly spat.
Dalal also rubbished SRK's version of the fracas.
"He abused us in such a way that I can't tell you. The language he used was very bad. His behaviour is not acceptable," said Dalal.
Savant said he would push for a life ban on Khan at the MCA's managing committee meeting on Friday and was confident he will be supported by those who were present on Wednesday and witnessed the fracas.
"The way he behaved and the way he abused us, I will definitely propose that he be banned for life. Whatever members were with us yesterday there is unanimity that he be dealt with strictly and very strongly. With that perception I think they will be with me," said Savant.
"A meeting has been called to decide on the issue tomorrow at 11 am," he informed.
The MCA official also dismissed Shah Rukh's claims that the children with him were manhandled by MCA security personnel.
"It's all a lie. 20-25 children went on to the ground but no one misbehaved with them. These are all afterthoughts," he said.
Savant said he would be happy if Khan does not come to the stadium in future.
"If he doesn't come, we will be definitely happy. Discipline on a cricket ground is of primary importance and if he does not understand that, he does not understand the game and it's better he does not come here. If he does not come, still the game will go on," he said.
When asked why the BCCI was taking a diplomatic stand on the issue, he said, "I will not call it diplomatic. It all happened at midnight. Thereafter we were busy with our own office (work). We are all honorary workers here. I am coming back from my office. Now I will be reporting it officially and they (BCCI) will follow whatever is the procedure required," he said.