Arrested Indian pacer S Sreesanth and 13 others, including two other cricketers of Rajasthan Royals franchise, were on Thursday sent to police custody for five days by a court in New Delhi to be quizzed in connection with the IPL spot-fixing scandal case.
Delhi police told the court that more people are involved and fresh arrests are expected. The probe suggested that bookies had betted on some other players also, it said.
- Self-destructing Sreesanth finally gets it right!
On a day of dramatic developments, Sreesanth and his IPL team mates Ajit Chandila and Ankit Chavan, who were arrested in Mumbai early in the day, were brought to the Saket district court complex with their faces muffled along with 11 Mumbai and Delhi based bookies.
They were produced at the residence of Chief Metropolitan Magistrate Lokesh Kumar Sharma inside the Saket court complex and asked to appear one-by-one before him.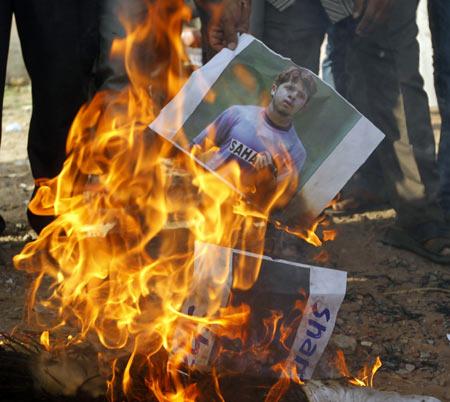 The media was barred from entering the magistrate's residence which was under a thick security blanket.
During the hearing, special cell of Delhi police sought seven days of custodial interrogation of the cricketers and others to unearth the entire conspiracy relating to spot-fixing in three IPL matches involving Rajasthan Royals.
Pubic Prosecutor Rajiv Mohan, appearing for Delhi police, sought police custody of all the accused for confronting them with each other and with electronic evidence, including their laptops, collected during the discreet probe.
The custodial interrogation was required to ascertain, if any, the magnitude of conspiracy, Mohan said adding that the investigators also need to find out the source of money allegedly received by the cricketers for indulging in spot-fixing.
During the arguments, the prosecutor claimed that several other matches in the IPL were also fixed and the accused are required to be interrogated regarding that also.
"Huge amount money is involved in the case," Mohan said.
Seeking seven days remand of all accused, the prosecutor told the court that that there is a "larger conspiracy" in the entire scandal and they need to be probed thoroughly.
The counsel appearing for some of the accused opposed the police plea alleging they are innocent and have been falsely implicated in the case.
The defence counsel alleged foul play and claimed that some other persons are behind the conspiracy.
Sreesanth and two other cricketers were arrested in a post-midnight operation in Mumbai last night by Delhi police for spot-fixing in IPL matches for payments of upto Rs 60 lakhs just for giving away pre-determined number of runs in an over.
It said that the cricketers indulged in spot-fixing in at least three IPL matches as per arrangements with bookies who have underworld connections abroad.
The players, who have been suspended by the BCCI, have been booked under section 420 (cheating) and 120-B (criminal conspiracy) of the IPC.
Earlier during the day, Delhi Police Commissioner Neeraj Kumar said that the accused are also likely to be booked under the stringent MCOCA, Maharashtra Control of Organised Crime Act, which could land them in jail without bail.
The commissioner listed three Rajasthan Royals' matches -- on May 5, 9 and 15 against Pune Warriors, Kings XI Punjab and Mumbai Indians respectively -- where spot-fixing took place.
Advocate Rajiv Shankar Trivedi, appearing for Chavan and Chandila, claimed his clients are innocent.
"The prosecution has shown some evidence. They have claimed they have recovered various mobile phones, laptops, etc from their possession. They have also claimed that money changed hands. We are not seeing any such thing," the lawyer said.
The names of players emerged during the conversations between two bookies and on this basis, the cricketers were implicated in the case, he said.
Image: Demonstrators burn a poster of S Sreesanth during a protest in Ahmedabad.
Photograph: Amit Dave/Reuters