Released on bail after spending 27 days in jail, cricketer Ankeet Chavan, who was arrested for alleged involvement in the IPL spot-fixing scandal, hopes he will not be denied justice by the judiciary.
"I am just hoping for the judiciary to make the right decision," Chavan said on Wednesday.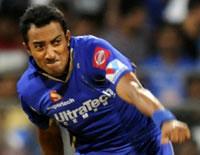 Rajasthan Royals cricketers Chavan and S Sreesanth were on Tuesday released from Tihar jail along with 17 other accused.
All of them were granted bail by a Delhi court. The court had also censured Delhi police for slapping MCOCA on the cricketers and other accused.
The 27-year-old Chavan, an off-spinner, was naturally relieved to have walked out of jail.
"I am thankful to the judiciary. I am happy and thankful to my family and all my friends who stood by me in tough times," he said.
The two cricketers, along with another Rajasthan Royals teammate Ajit Chandila, were arrested on May 16 along with 11 bookies.
The Delhi police charged them under the Indian Penal Code Section 420 and 120B, which deal with fraud, cheating and criminal conspiracy.
Chavan was earlier released on bail in the first week of this month to get married to his longtime friend Neha Sambari.