In its quest to paint a rosy picture on the health of Indian cricket, Board of Control for Cricket in India president N Srinivasan and former treasurer Ravi Savant's note in the Board's Annual Report doesn't have a single mention of the spot-fixing scandal that rocked the sixth edition of the Indian Premier League.
Secretary Sanjay Patel's two-page note has passing mention of the spot-fixing and betting scandal involving big names like former India pacer Shantakumaran Sreesanth and the BCCI president's tainted son-in law, Gurunath Meiyappan.
The Annual Report that has a dedicated page on Anti-Doping Methods and Age-Verification Process, also doesn't mention the IPL's first Indian dope cheat Pradeep Sangwan's name, while it stated that "364 U-16 cricketers failed age verification tests".
Former treasurer Savant's note in the report also has ample indications that the IPL-6 sponsorships as well as ticket receipts witnessed a drop from last year.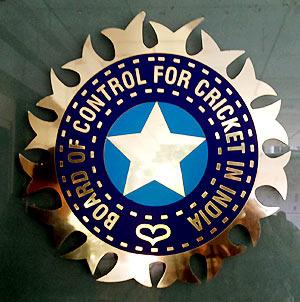 The 128-page annual report has the controversial Tamil Nadu strongman terming the year as "memorable and eventful for Indian cricket".
However Page 3 of the report that carries the president's note, only waxes eloquent about the achievements of the various cricket teams including the senior, 'A' team, Under-19 and Under-23.
Srinivasan concluded his note saying, "IPL, in its sixth year, was a great success in terms of cricket content and attendance at all matches".
Patel, in his secretary's report (on Pages 5 and 6), never used the word "spot-fixing" anywhere.
Instead, Patel wrote, "The BCCI responded strongly to crisis arising out of IPL 6. The concerns have been addressed and continue to be dealt with and BCCI will do whatever is necessary to protect the game of cricket in India."
Only on Page 17 of the report, which contains the decisions of the Working Committee during the year, there's mention of a probe panel being formed to investigate into charges against Meiyappan.
Incidentally, that probe panel's report has since been termed illegal by the Bombay high court.
Notable aspects of former treasurer Savant's report (Page 90)
1) IPL sponsorship money received in IPL VI is Rs 180 crore compared to Rs 192 crore in IPL V. The fall termed by Savant in report is "marginal".
2) Income from IPL-V's Play-Off matches is Rs 6.15 crore while income from IPL-VI's 'Play-Off' is Zero.
3) Sale of ticket receipts from IPL-VI is Rs 13 crore compared to Rs 18 crore in IPL-V.
4) Advertisement expenses has gone upto Rs 31 crore in 2012-13 from Rs 11 crore in 2011-12.
5) Gross IPL receipts from IPL VI was 892 crore compared to Rs 956 crore in IPL-V.
6) Media Rights income has "marginally" gone up to Rs 556 crore in IPL VI compared to Rs 533 crore in IPL-V.
7) Franchise consideration has gone down to Rs 460 crore in IPL-VI from Rs 613 crore during IPL-V.
8) Income from bank interest was Rs 102 crore during 2011-12 which came down to Rs 85 crore in 2012-13.
Reason: BCCI had to break fixed deposits to make payment of Rs 340 crore as taxes "under protest".
9) The curent financial year 2013-14 has a budgeted surplus of Rs 389 crore.
10) Umpire's and Player's Benevolent Fund was discontinued under recommendations from Working Committee.
Page 113 of the Annual Report deals with BCCI's policies and measures taken in regards to Anti-Doping and Age-Verification Policy.
While it mentions that 82 urine samples were collected from 67 players during IPL-VI from 10 venues (in-competition and out of competition), nowhere does it mention the name of Kolkata Knight Riders pacer Sangwan, who was found guilty of using the performance-enhancing drug stanzolol.