Pakistani umpire Asad Rauf, who is embroiled in the IPL spot-fixing scandal, broke his silence for the first time since his name cropped up in the Mumbai police's investigation, saying he is ready to face the ICC's Anti-Corruption and Security Unit to clear his name.
"Money, gifts, spot-fixing and match-fixing have never been my goal and target. They have never been a topic in my life," said Rauf, in Lahore, on Wednesday.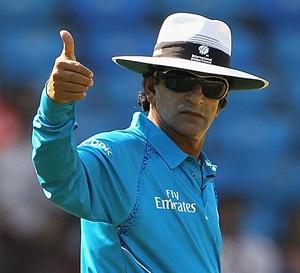 "If there is an inquiry by the ICC's Anti-Corruption and Security Unit, then I will be happy to face the inquiry and answer all their queries," he added, while dismissing all allegations against him.
The raging spot-fixing saga in the IPL turned murkier after the ICC withdrew the controversial umpire from next month's Champions Trophy in England for his alleged role in the scandal, which is growing bigger by the day.
The ICC said Rauf was withdrawn as he was under investigation by the Mumbai police, thus becoming the first umpire to come under the scanner in the IPL spot-fixing scandal.
Rauf has a history of controversies. Only last year a small-time model, named Leena Kapoor, had accused him of sexually exploiting her for months before refusing to marry her.
Although the Pakistan Cricket Board distanced itself from Rauf's case, saying the event was held in India and Rauf was officiating as an ICC umpire, PCB chairperson Zaka Ashraf had said action would be taken against the umpire if the ICC asks for any such step.
Image: Umpire Asad Rauf
Photograph: Matthew Lewis/Getty Images