Six prominent "Indian capped" players, including one who is part of the current team, are likely to face the heat for their alleged roles in the 'fixing' scandal as their names have cropped up in the Justice Mudgal report, filed on Monday before the Supreme Court.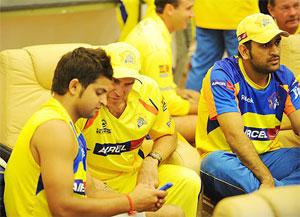 In its report, the three-member committee -- headed by former Punjab and Haryana Chief Justice Mukul Mudgal -- which probed the IPL betting and spot-fixing scam, said former Board of Control for Cricket in India president I S Bindra had also stated that he knew two former reputed Indian players who were allegedly involved in match-fixing.
However, the names of the players, whose roles are being probed, have been given to the apex court in a sealed cover.
The report said a journalist, who was apparently connected with recording of tapes for a sports magazine, could identify the voice of the Indian player; he had also stated that the player was part of the team which played the World Cup and is a member of the team now.
"The journalist refused to disclose the names of the Indian players involved. In spite of repeated requests to put the name of the said player in a sealed cover for perusal before the Supreme Court, the journalist appeared terrified and was very reluctant to do so and pleaded that it would be dangerous for the journalist concerned," it said.
"It thus appears that names of six prominent Indian capped players are available in tapes in connection with dealings with bookies while two of these prominent Indian capped players have also been named by none other than a former president of BCCI," the report added.
The report also referred to the transcripts of the tapped conversation between two alleged bookies, Chandresh Jain and Ashwani Aggarwal, in which there are "references to high level fixing of players where the names of two international Indian players were mentioned".