The Eden Gardens could be deprived of Sachin Tendulkar's batting for the second game running as Mumbai Indians coach John Wright has said the veteran cricketer is "unlikely" to play in Sunday's final against Chennai Super Kings in the Indian Premier League.
"At this stage, Sachin is probably doubtful for tomorrow. It's probably unlikely. We'll take a final call tomorrow," Wright told reporters in the pre-match press conference.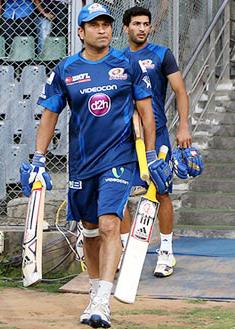 Tendulkar has not played since injuring his left wrist in a match against Sunrisers Hyderabad. He had also missed Friday's Qualifier 2 against Rajasthan Royals at the same venue.
"It's still a big part of our team whether he is playing or not. We are happy to have him. He has done a great job. We play for people like Sach... we are a family," the former India coach added.
Talking about leadership in MI, he said, "We shared a lot of our leadership. A lot of it come from the players on the field and the way we work together.
"Rohit (Sharma) has done a great job. We try to enjoy ourselves. We represent a big city Mumbai. We have a lot of fans. We try to enjoy our cricket. We try to express that enjoyment through playing."
And asked about Anil Kumble's contribution, Wright said: "Kumble is our team mentor. He's the boss. Ricky (Ponting) was appointed as captain and has not played for a little while. But he is got a very strong leadership in the changing room." Wright lauded Ponting for his contribution despite being on the sidelines.
"One of the hardest things of the tournament is picking the team. Ricky is not being a part of it. But there are others like him. That's one of the things about managing the group. Even if they are not playing they contribute to the team.
"For everyone who misses out it's slightly frustrating. But we are here. It's our team. It's a big day for all of us. The support for the players will be great right across this world from everybody." Coming back to Sharma, Wright said he has done an "outstanding job".
"It's a great challenge which he embraced. He wanted to take the opportunity, shown great potential, and has done a very good job. He's a Mumbai boy and we are very pleased with the way he's done it. He's excited about playing in the final tomorrow."
About the mood in the MI camp, he said, "We are pleased to be here. If we did not play well in the last game, we would not be here and wake up to this moment. We are really excited to be here.
"It's a great league. We have had a lot of tough games. Tomorrow will be no different, it will be another just another tough game."