Mumbai batsman Dinesh Karthik says Sunday's IPL final will be cracker of a game but the experience of playing five title-clashes gives defending champions Chennai Super Kings a certain edge.
-PHOTOS: Mumbai prevail over Rajasthan to enter final
Mumbai will play in their second final, having finished runners-up to Chennai in 2010.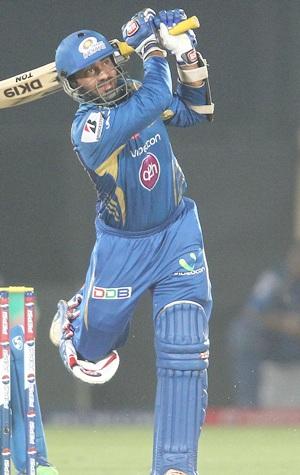 "It's going to be a good game. We are two evenly-matched teams. They have the upper hand of having played a few finals before. For me and many in the team, we would be playing our first final. Some of them second. So, it's going to be a good game. I'm sure both the teams will come out hard," Karthik said after Mumbai's win in Qualifier 2.
Mumbai Indians stuttered in the middle before chasing 166 and Kathik said they should have won it easy.
"With 41 needed from six overs with nine wickets in hand, it should not have been that tough. But that's the nature of the game. If you play a few dot balls or lose a couple of wickets, things tend to get out of your hand. The good thing is that we finished the game."
Sachin Tendulkar continued to miss the action but Karthik said his presence in the dressing room was inspirational.
"He is inspirational. His expression after we won the game says it all. He is there for us. He believes we can do our job. We all are very inspired to have a person like him in the dressing room. He always have positive vibes and good things to share. He is a man everybody looks up to," he said.
Tendulkar, who injured his left wrist in their May 13 match against Sunrisers Hyderabad, has missed four matches including two play-offs.
Giving an update on Tendulkar, Karthik said, "The physio will take a call tomorrow. As of now, he is where he was."
Karthik said he was excited to play an IPL final for the first time as he was not a member of the side in 2010 when they had ended runners-up.
"Quite a few players have changed as there was an auction after that. But quite a few senior players are still around.
For me, it's the first final. I'm very excited on an individual note. On the team front, we are very excited to reach the final."
Karthik also praised the Eden wicket since it offered bounce.
"There's a little more bounce here. Generally when you come here, you've this impression in mind it would be a little low, slow and turners. But it was a good game. If you get 330-odd runs out of 40 overs, I think the curator had done a great job. There is something for both batsmen as well as bowlers. "
Photograph: BCCI