The Board of Cricket Control for India (BCCI) on Sunday accepted that they were not in a position to control spot-fixing in wake of the row, which involves three Rajasthan Royals players.
- BCCI orders spot-fixing probe; Rajasthan to file FIR
- BCCI should agree to come under RTI: Maken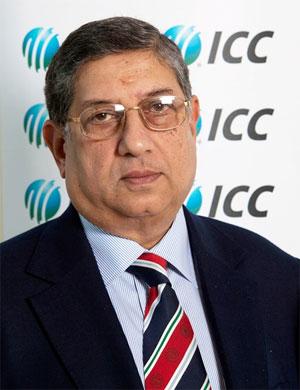 BCCI president N Srinivasan said, "Each team will have an Anti-Corruption and Security Unit (ACSU) officer apart from that Ravi Sawani has been appointed as the commissioner to probe into spot-fixing allegations. For the last three-four days, BCCI-bashing and IPL-bashing has taken place as if the whole world has fallen down. Only three players have allegedly done something. It doesn't mean the whole IPL is bad. We are very grateful to the public that has sold out grounds despite the news. We are very, very grateful to the public coming out in support of cricket," Srinivasan said.
Reacting to Union Minister Ajay Maken's views that BCCI should come under the ambit of RTI, Srnisnivasan said, "As far as RTI is concerned we are a private body. So it is not applicable to us. RTI isn't going to stop spot-fixing. Every domestic match is videographed. We will intensify the education programme we have. The way to attack is to educate the players of how this works and action on players will only be taken after report comes."
Srinivasan further added: "ACU of ICC has got certain limits. They cannot gather certain info as the police can. There are a lot of restrictions. We should look within them. The education programme of ICC and BCCI has been successful in the fact that a lot of players have understood what they should or should not be doing. We cannot control and police every bookie in town."