After successfully hosting the home matches of Delhi Daredevils in the ongoing Pepsi Indian Premier League, Shahid Veer Narayan Singh International Stadium in Raipur may get the nod to host an One Day International match when Australia tour India for a seven-match ODI series later this year.
- Next on Delhi's target list, SRK's Knights
Chattisgarh State Cricket Association will be completing five years as an associate member of the BCCI in September which will automatically grant them full member status making the venue eligible for international status.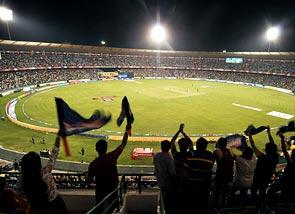 "We will be having a Ranji Trophy team from next year. The IPL matches have definitely helped putting Chattisgarh on the international map. I have spoken to Rajeev (Shukla) and told him that we are ready to host Test matches also," Chief Minister Raman Singh said on Wednesday.
"We have completed the work of the stadium in record 45 days and the first match is a huge hit. Sports is a way of connecting with the youth of the state," Singh stated.
The secretary to CM, Aman Kumar Singh, informed that they are hopeful that they might host an ODI during the Australia series scheduled to take place in November.
"We are the first association that has got right to host an IPL match before getting full membership. We have got positive feelers from the board that we might get an ODI against Australia," the secretary to the CM informed.
For the CM, the stadium was a dream project and he is happy that they have been able to built a state of the art facility.
"We will definitely have an academy in near future and also make good utilization of the stadium. Chattisgarh has done well in sports like basketball, boxing and we have been able to attract talented young kids from the tribal areas and train them," CM further informed.
Photograph: BCCI