IMAGES from the Indian Premier League match played in Guwahati on Saturday.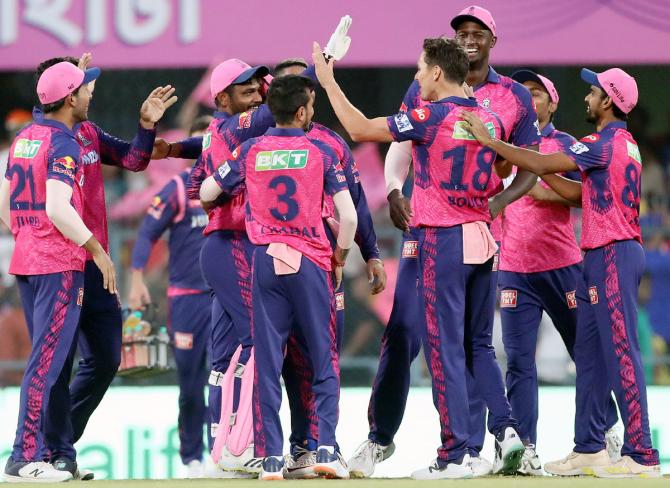 Delhi Capitals' summer of horrors continued as they crashed to a 57-run loss against Rajasthan Royals, completing a hat-trick of one-sided defeats in this edition of Indian Premier League, in Guwahati on Saturday.
While Yashasvi Jaiswal reaffirmed his status as the brightest talent among India's gen-next batters with a superb 60, Jos Buttler showed no signs of finger pain en route a chiselled 79 in Rajasthan Royals' challenging 199 for 4 after David Warner committed a tactical 'harakiri' by opting to field on a batting strip.
The Australian couldn't be blamed as his pencil-thin Indian batting unit was put on its haunches as they managed only 142 for 9 in the end after being out-batted by the two Royals openers with Shimron Hetmyer adding a bit of icing on the cake.
In the Royals' innings, there were 23 boundaries and seven sixes while DC in their entire innings failed to hit a single six on what was considered to be batting paradise.
The Royals thus earned their second win in three games, having lost a high scoring thriller against Punjab Kings at this very venue.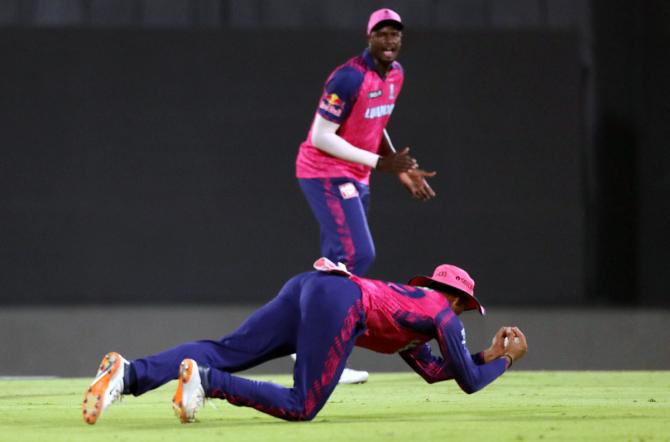 Trent Boult (3/29 in 4 overs) then did what he does for a living. He got one to move a shade, squaring up Prithvi Shaw (0) and exposing his poor technique once again. The very next ball jagged back enough and found Manish Pandey (0) rooted to his crease for a plumb leg before decision. There was not much left in the game after that kind of horrendous start.
In three games, Shaw has been dismissed in three distinct fashions -- raw pace in the opener, well-disguised short ball rearing up in the second and the old -fashioned seam and swing in the third.
Skipper David Warner (65 off 55 balls) scored his second half-century in three games but has been very 'Un-Warner' like where he has never looked like taking the game away from opposition.
Once Lalit Yadav (38 off 24 balls) was dismissed by Boult, in his second spell, the humiliation was written all over Barsapara Stadium.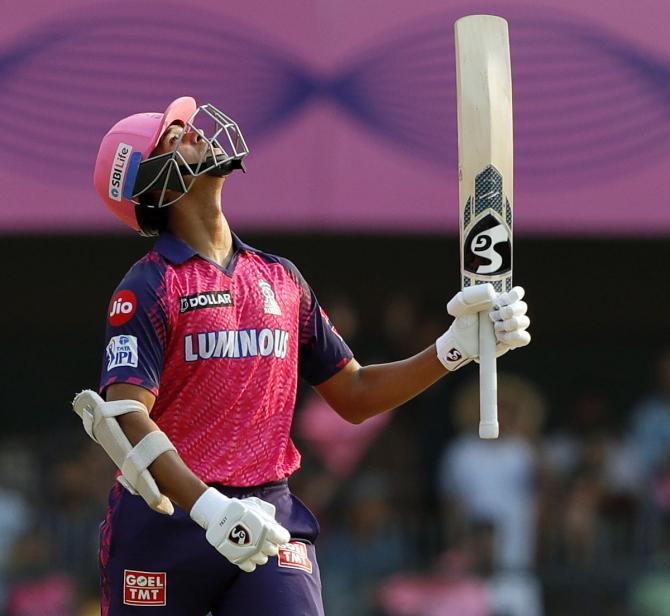 Yashasvi Jaiswal reaffirmed his status as the brightest talent among India's gen-next batters with a superb 60 while Jos Buttler showed no signs of finger pain en route a chiselled 79 in Rajasthan Royals' challenging 199 for four against Delhi Capitals in their IPL match in Guwahati on Saturday.
Jaiswal hammered a hapless Khaleel Ahmed (0/31 in 2 overs) into submission by crunching five boundaries in the opening over, his 31-ball innings laying the foundation before Buttler finished with flourish. The English swashbuckler faced 51 balls.
The fate of DC bowlers could have been sealed in first six overs, which yielded 68 runs along with 14 boundaries, but Kuldeep Yadav (1/31 in 4 overs), Mukesh Kumar (2/36 in 4 overs) and Rovman Powell (1/18 in 2 overs) did well to control the damage to some extent at the back-end.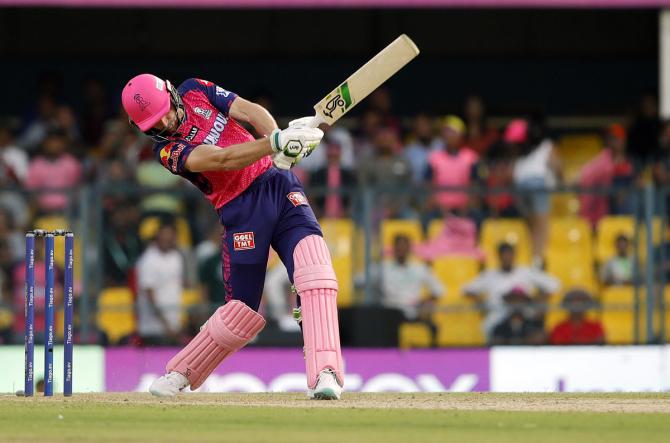 The total on this track would be considered a par score taking the pitch into account as 220 looked possible during the first 10 overs.
Khaleel literally lost both line and length and looked bruised as Jaiswal inflicted one humiliation after another on him during those couple of overs. Khaleel, in his career, has never had three consistent games on the trot and Saturday was another such day.
Anrich Nortje (0/44 in 4 overs), DC's big bowling hope seemed to have had too much on his plate, as the onslaught at the other end did affect him as he also went for a flurry of boundaries, including one over the bowler's head.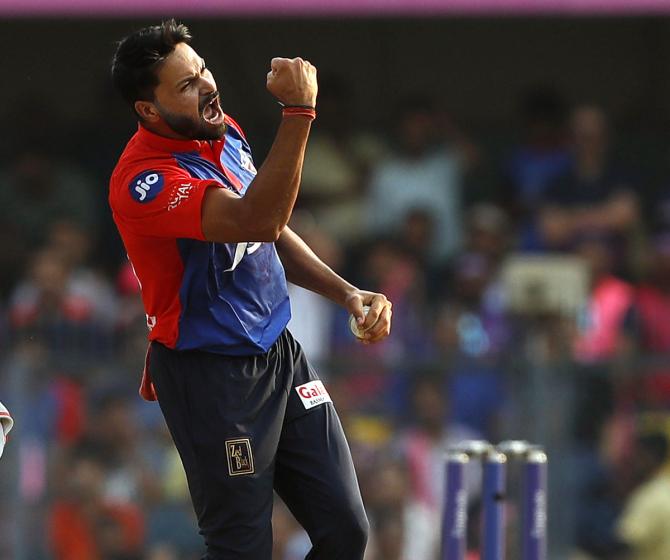 Such was David Warner's helplessness that he had to ignore that Axar Patel's (0/38 in 4 overs) match-up against left-handers isn't great, and he was promptly smashed for three boundaries in his very first over.
The 50 came in the fourth over and 100 in the 10th even as Jaiswal completed a 25-ball half-century, his fifth over three editions of the tournament.
Seeing Axar's plight, his spin twin Kuldeep, also started bowling quick and flat which resulted in half-trackers, which were promptly punished.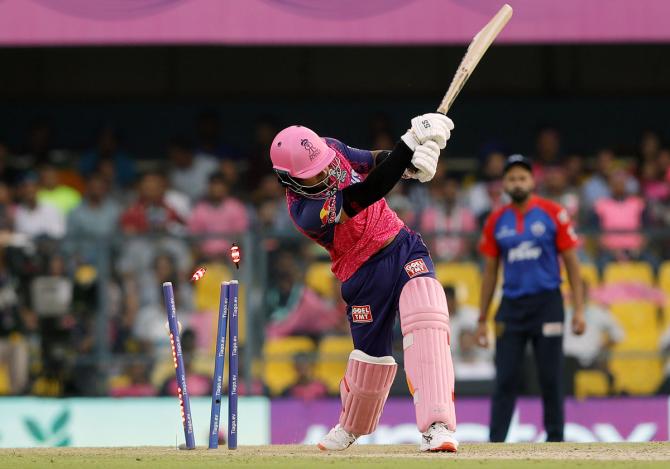 It was Mukesh Kumar, who finally induced a mis-timed pull from Jaiswal which ballooned up and resulted in an easy return catch.
The confidence of Mukesh rubbed off on Kuldeep, who in his second over started giving the ball more air and floated one out of Sanju Samson's (0) hitting radar. Samson's ugly heave was taken by Nortje at long on.
Riyan Parag (7) had another failure, this time castled by Powell but Buttler, after a quiet period in the middle overs, conjured a 49-run stand with Shimton Hetmyer (39 not out off 21 balls) to take his team to a par score.