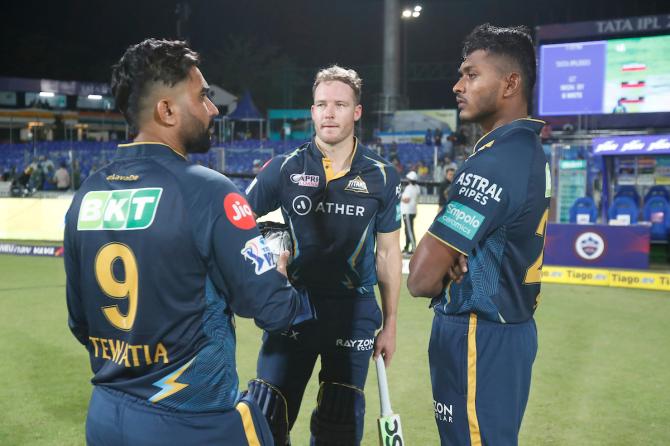 The impact player rule in the IPL doesn't "threaten" the role of all-rounders and instead provides teams with extra strength, said South Africa and Gujarat Titans batter David Miller on Saturday.
Introduced ahead of the ongoing edition of the IPL, the rule allows the teams to replace a batter or bowler anytime during the match.
"I've just come in the last couple of days and I'm still trying to kind of get the concept of it, but it seems like it takes away the impact of all-rounders, takes their role away," Miller said during the pre-match press conference when asked to comment on the new rule.
"That's my understanding, where you can take six or seven frontline batters or six frontline bowlers. So, yeah, I mean, we'll see how it goes as IPL goes on."
All-rounder Krunal Pandya had blasted a 23-ball 34 after claiming three wickets with his spin bowling to steer Lucknow Super Giants to a five-wicket win against Sunrisers Hyderabad on Friday.
When asked if the all-rounder's position is threatened due to the new rule, Miller said: "No, not necessarily threatened."
"I mean, ultimately, you've got your all-rounders position. But I think the fact that you've got the choice to have the extra batter or the extra bowler just gives extra strength to the team.
"So I wouldn't say it's a threat to any all-rounders. All-rounders have always been highly regarded in any team. So I think their role still remains but it just gives this extra strength to the team in terms of batting or bowling."
On Sunday, Gujarat will take on Kolkata Knight Riders, who have three mystery spinners in Sunil Narine, Varun Chakaravarthy and new entrant Suyash Sharma.
"KKR have got a strong team, some really good mystery bowlers, and we're well aware of what they've gotten. In terms of preparation, we we've been doing everything we can the last day or two to counter that," Miller said.
"It is going to be very hot. So I think the guys are going to be hydrating, well, the next 24 hours."
Miller said GT have never been dependent on individuals and the contributions from different players will once again be the key to their title defence.
"In terms of the batting in our squad, we've got some really good betters at the moment, the guys are all contributing at different stages. And that's what we did really well last year.
"There wasn't one player that was kind of performing and everyone was relying on that person, it was, contributions from all the batters at different stages through the IPL. And I think in order to get to the playoffs and ultimately win the trophy, you need a squads performance in all the different betters throughout the tournament, as well as bowlers.
"The guys are in a really good space and batting really well and training really hard. So I'm not going to point out anyone specifically but just as a team as how we kind of go about the season after being very successful last season."