A four-member Mumbai Police team began searches at the residence of suspended CSK CEO Gurunath Meiyappan on Sunday.
Meiyappan was arrested for his alleged involvement in betting on IPL matches. Gurunath, son-in-law of BCCI President N Srinivasan, was arrested by Mumbai Police on Friday after he flew into the island city by a chartered aircraft, a little after missing the 5pm deadline set for the day, to appear before them for questioning.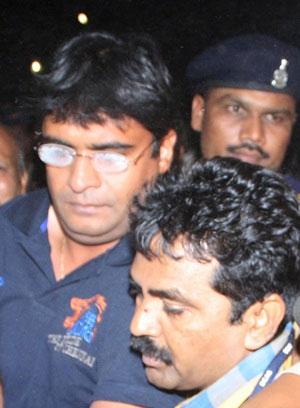 The CSK owner ran into trouble after actor Vindoo, son of later wrestler actor Dara Singh and winner of reality show Bigg Boss season 3, was allegedly in "frequent touch" with him during IPL matches and reportedly told Mumbai Police that the CSK owner had lost Rs 1 crore through betting.
Gurunath was on Saturday remanded to five days custody by a court in Mumbai, which was told by police that he used to place huge bets on IPL matches after fixing the game.
Police also told the court that the CSK Team Principal, used to share inside information about the Chennai franchise with bookies to make money.
During the searches, which lasted for more than eight hours, the Mumbai police accompanied by their Tamil Nadu counterparts recovered "some documents", sources informed.
Earlier in the day, the BCCI suspended Gurunath from any involvement in Chennai Super Kings and cricket in general, pending inquiry.
"The BCCI has already taken the decision to provisionally suspend him (Gurunath) from all activities in cricket and particularly from all involvement within CSK franchise", BCCI Chief N Srinivasan told reporters in Kolkata".
The IPL became embroiled in a controversy after speedster S Sreesanth and two of his Rajasthan Royals teammates were arrested last week by police, who claimed to have received up to Rs 60 lakh from bookies for bowling one manipulated over.
A special cell of Delhi Police arrested Sreesanth and his teammates -- Ajit Chandila and Ankeet Chavan -- in Mumbai last Thursday for indulging in spot-fixing in at least three IPL matches as per arrangements with bookies, who have underworld connections abroad.
Photograph: Sahil Salvi
Also Read
- I am not guilty and I won't resign: Srinivasan
- Three-man team to probe Meiyappan's role in spot-fixing
- Hotel CCTV footage shows Sreesanth, Chavan meeting bookie
- IPL spot-fixing: 3 more cricketers involved?