'I feel cricket is shifting to a power game now so chasing is the choice'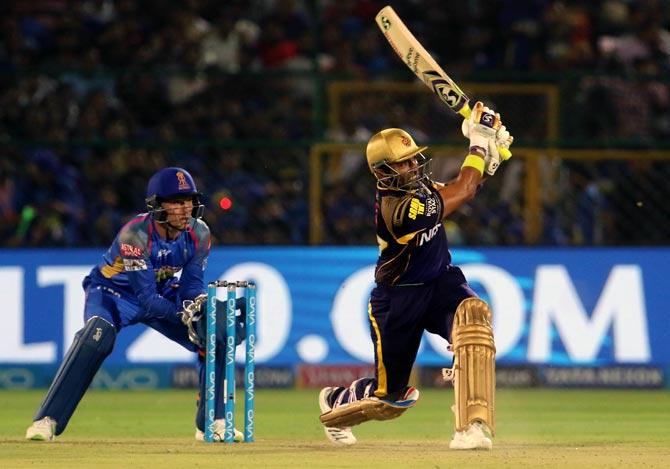 Explosive Kolkata Knight Riders batsman Robin Uthappa feels cricket is going through a paradigm shift to a power game and any total on board now looks chaseable.
"The changes in the game are dynamic. It is changing as a sport, anything looks like chaseable, I feel cricket is shifting to a power game now so chasing is the choice. There is a paradigm shift in the nature of the sport," said Uthappa, who played a 36-ball 48-run knock to chase down Rajasthan Royal's total of 160-8 on a slow wicket.
With three wins from five matches, Uthappa said he is satisfied with KKR's progress in the tournament.
"We are happy in the position we are. We are at the top and might have played a game more but we played good cricket. It is important to peak at the right time," he said.
"It is a two-halve tournament. Initially we were looking to qualify for the playoffs, you need the momentum. After six games we would have a nice break so we are quite happy where we are. Every game is important for us," said Uthappa.
The 32-year-old was also happy with his batting form after making useful contributions in the middle order.
"I did not have a good domestic season but I always felt I was striking the ball well. That is what I feel now. Need to get better and better," said Uthappa.
He also praised Man of the Match Nitesh Rana, who has scored 162 in five matches so far.
'I feel Rana is a very fine batsman with a mature head on his shoulders. We have not shuffled much with batting order and the top three have been almost the same. We tried but had to revert soon to same top order," he said.
"If Sunil Narine and 'lynny' click at the top and likes of Rana, I, Dinesh Karthick and Russel coming in things does look nice. That has been working for us."
When asked to compare between two captains -- Gautam Gambhir and now Dinesh Karthik, Uthappa said: "They were different kind of personalities. Karthik is more composed and thinks a lot but also gives space to players to play with their instincts while Gambhir is more proactive."
On the other hand, Rajasthan Royals captain Ajinkya Rahane blamed himself for the loss against KKR.
"I feel it was a different wicket from what we played on against Delhi Daredevils. It was slow and ball was also keeping low. I feel it was my responsibility to take that innings forward," he said.
"It is hard to recover from slow start because T20 is all about one or two big overs. I was batting well at the other and wanted to continue till the 14th or 15th over."
Rahane also refused to blame his bowlers for the debacle.
"Not really, our bowlers have done a good job in all three matches. In T20 sometimes you go for runs but we have a good combination. When you lose people start talking about bad bowling or batting," he said, adding that the fielding was not up to the mark and there was scope for much improvement.