He doesn't have to bowl to Mahendra Singh Dhoni in a match but Chennai Super Kings pacer Ben Laughlin says he is "scared" of bowling to his skipper even in the nets.
"I am probably scared of bowling to MS [Dhoni] the most in the nets, but influence wise the coach has been good," the Australian said when asked about who had influenced him the most.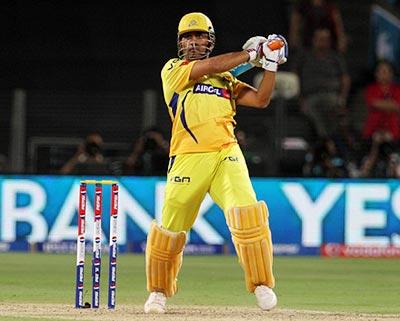 "My father back home has had a big part to play and all the coaches along the way have been great, but over here, it is probably just challenging to bowl to MS [Dhoni]," he added.
The year has been a good one for Laughlin as the pacer not only made his way back into the Australian side in the shortest format of the game but also found a place in CSK, one of the most dominating teams in the ongoing IPL.
"It is has been fun over the last 12 months I suppose. I had some good results in the Big Bash back home in Australia and that led to the Australian selection. It was good to get back into the national team and very fun being here as part of the CSK and the IPL," he told the IPL website.
Talking about the challenges of bowling in the shortest formats, the 30-year-old Laughlin said, "In T20, batters don't have much fear, so they are always trying to hit big shots.
Considering that, you always bowl sensibly which is hard but that's the job which we are given. So it is quite exciting."
And asked what is his most lethal weapon, he said, "My yorkers are normally quite good if I land them and my bouncers are kind of effective but not so much here because the wickets here are not as quick as they are back home."
Photograph: BCCI