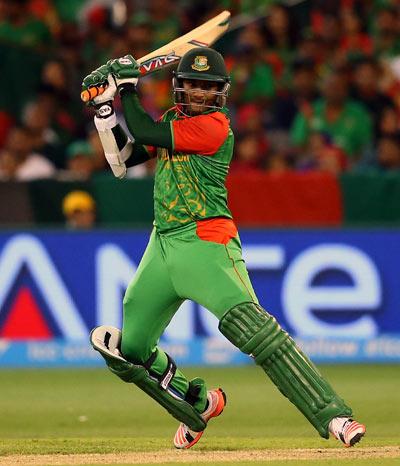 Acknowledging that the ICC World Cup quarter-final against defending champions India is perhaps the 'biggest match' for Bangladesh, all-rounder Shakib Al Hasan on Tuesday said it is important for his team to look at it as just another game and not get burdened by any additional pressure.

"Maybe you can say that this is the biggest match of our careers because this is the first time we are playing in a World Cup quarter-final. At the same time, we need to understand that it's just another game of cricket," Shakib said in Melbourne.

The Melbourne Cricket Ground is expected to be packed to capacity and the majority will be Indian fans but Shakib is not perturbed.

"I have a bit of an idea about crowd pressure having played for Kolkata Knight Riders in the IPL. Even a packed Eden Gardens will have around 70,000 people. I know what that can be like. But yes, how the experience at MCG will be I won't be knowing unless I go out there in the middle," said the world's No.1 all-rounder in ICC rankings.

Shakib admitted that playing for Kolkata Knight Riders in the Indian Premier League has helped him grow as a cricketer and it will enable him to plan against the likes of Mahendra Singh Dhoni, Virat Kohli, Shikhar Dhawan and Suresh Raina.

"Obviously, having played in the IPL will help me plan well against these players. Also I can pass on information to my team mates which will be beneficial. Actually, all the top six of Indian line-up are world class players and potential game-changers. We have to ensure that they can't build big partnerships and also more important ones among the six get out early," the 27-year-old lad from Jessore district in Bangladesh said.

The all-rounder said that he had indeed watched India's run-chase against Zimbabwe and believes that it was Dhoni's composure that won them the match.

"Dhoni is someone who doesn't panic that much. That was the calmness they needed and was key to how they chased that total down," he said.
Individually, Shakib hasn't had the best of World Cup so far after managing just 186 runs and seven wickets from five games and the all-rounder agreed he needs to raise his game.

"Well, I would say it has been an okay sort of World Cup for me. I could have done better in batting but I am satisfied with my bowling. But still there is a lot of scope for improvement and also there is no limit to what you can contribute for your team."

Bangladesh, who lost their only match at the MCG in this edition against Sri Lanka, managed only 240 in response to the islanders' score of 332 for one and Shakib termed the Melbourne wicket as a "good batting track".

On being quizzed about the par-score on this track, Shakib said, "It's difficult before match starts. I can assess the pitch once match starts. But what I have seen in recent times, 300 plus scores are a trend. So if a team bats first, any total in the range of 280-320 would be a commendable one. Also at MCG, you need to have a good arm to throw from the deep."

On whether Bangladesh can repeat the feat of 2007, when the Tigers outplayed India by five wickets to push the Rahul Dravid-led side out of the tournament, Shakib said, "It's a thing of the past and we have to focus on day after tomorrow's match. It's important for us to start well and seize the momentum as early as possible."

Shakib also praised Mashrafe Mortaza's captaincy and said that the pace spearhead has gelled well with the juniors in the team.

"He's someone who always talks to the young players and keeps motivating them. He's very friendly with everyone; he's close to everyone. A player can go up to him and say whatever he feels like. That's a good sign."

The key to Bangladesh doing well this year has been their preparation, feels the veteran of 37 Tests, 146 ODIs and 35 T20 Internationals.

"This year, we're well-prepared. I'm not saying we didn't prepare well enough in 2011 but the important thing was for us to win the first game. It got us going and we never looked back from there. There are so many performers in this World Cup whereas in the last one you could count only two or three," he said.

He pointed out that the one major reason why Bangladesh managed to upset India in the 2007 World Cup and the 2012 Asia Cup was because they played "fearless cricket" in both the games.

"We all want to play that brand of cricket that we did. So far in this World Cup we've been doing it. If we do exactly what we did against England and New Zealand, I think we'll have a very good game."
Image: Shakib Al Hasan
Photograph: Quinn Rooney/Getty Images
- Predict your FOUR World Cup semi-finalists
- Can pressure-free India overpower in-form Bangladesh?
- With 2007 WC win in mind, Bangladesh hopeful of upsetting India