'We got to seven wins quite quickly, and now lost three in a row. We have to reset right now'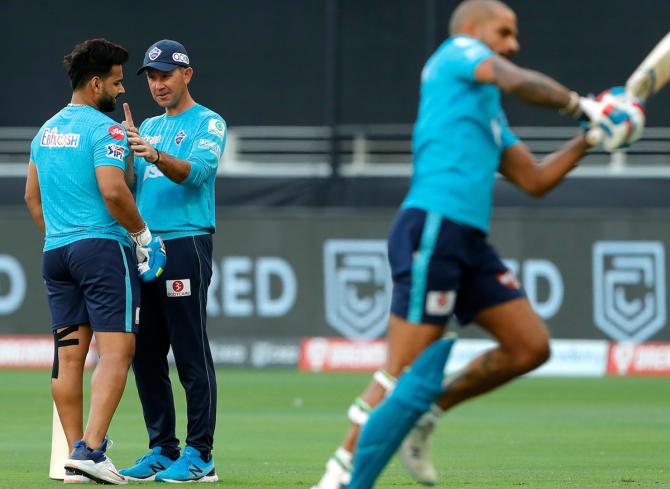 Delhi Capitals coach Ricky Ponting conceded that chasing is an area of concern for his team and it needs to hit the "reset" button to seal an IPL play-off spot in the remaining two league games after enduring a third straight loss.
After a flying start, the Capitals suffered a hat-trick of losses -- two of them while chasing -- to slip to the third spot in IPL standings. The most recent of those defeats was on Tuesday when the side lost to Sunrisers Hyderabad.
"It's been a concern. When we decide to bowl first, we've given away big totals. We have to get better at that, we need to be better at bowling first and at chasing totals because so far, it hasn't worked for us," said Ponting during the post-match press conference.
DC now will have to dish out superlative performances against table-toppers Mumbai Indians and second-placed Royal Challengers Bangalore in their last two games to seal their play-off spots.
"We had a rough idea from the start of the game on how many points one might need to qualify. We got to seven wins quite quickly, and now lost three in a row. We have to reset right now," Ponting said.
"We play MI next and RCB in the last match and if we keep playing the way we are, we will find it hard to win those games. So we have to change things and change them quickly," said Ponting.
On Tuesday, Delhi Capitals suffered a 88-run defeat, their third loss while chasing a total this season.
Ponting said his team has failed to bounce back whenever it has conceded an advantage to the opponents.
"As it has happened quite a few times in the tournament so far, when the teams have got on top of us, we've found it hard to drag it back. Today was a great example of that," Ponting said.
"We've got some work to do on our all-round game. Out-fielding has been a bit sloppy and our batsmen have struggled to find any sort of rhythm.