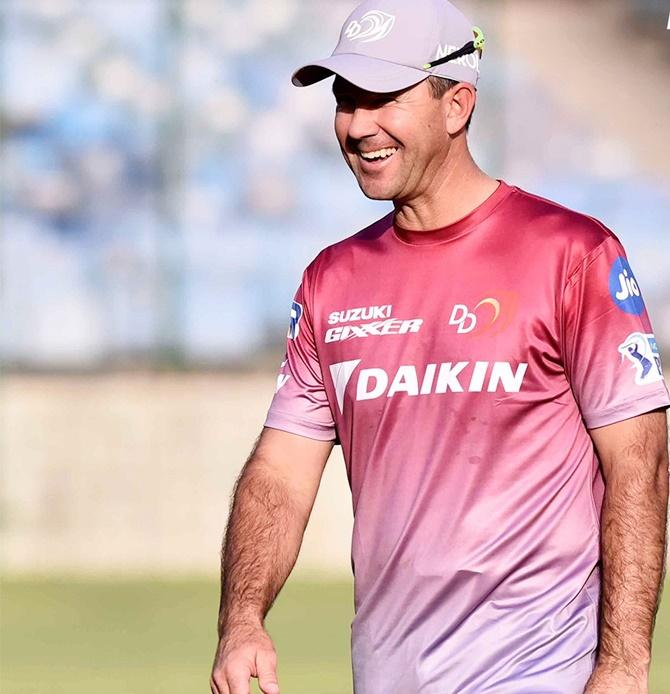 IMAGE: Ricky Ponting's 'go for the kill' approach can help Delhi Daredevils. Photograph: Delhi Daredevils/Twitter
India batsman Shreyas Iyer feels the great Ricky Ponting's 'go for the kill' approach can help Delhi Daredevils immensely in their quest for a maiden Indian Premier League trophy.
It has been just four days since head coach Ponting joined the Daredevils and the young Indian players seemed to be in awe of the two-time World Cup winning Australia captain.
Daredevils is a team that has under performed consistently and the franchise is banking on Ponting to change the trend. The 43-year-old had earlier coached Mumbai Indians to an IPL title in 2015 and was with the team for two years.
Iyer revealed how Ponting fired up the squad with his opening speech.
"It has been really good with (Ponting so far). He has been pretty aggressive. He has got that positive frame of mind. When he came in and gave a speech to all of us, it really fired us, we almost had goose bumps," said Iyer, who was one of the three players retained by the team ahead of the auction.
The Gautam Gambhir-led squad has a good mix of experience and youth including U-19 stars Prithivi Shaw and Abhishek Sharma.
"We have a lot of youngsters in the team and they like freedom. Suddenly he came in and made us feel free," said Iyer.
Ponting's speech pretty much focussed on winning the tournament, added Iyer.
"He said that 'we are here to win'. His frame of mind was pretty much about winning, not about the process. Normally, everybody comes in and talks a lot about process and but this guy had just one thing in his mind and that was to win," said the Mumbai batsman.
Asked whether he brings in the typical Australian aggression with him, Iyer said: "We can say that way. When I say aggression, he gives us freedom as well. He has asked us to play our own game.
"He has got his own way of preparing every youngster and though it has been just three days, we all know that we will get to learn a lot from him," he said.
The all-out aggressive approach also makes him drastically different from former Daredevils coach Rahul Dravid.
"Both (Ponting and Dravid) are equally good in their way. Dravid is more calm and cool, he nurtures the kids. Ricky is pretty opposite but both have the same frame of mind.
"It is really helpful to have Gambhir as well. He has got tremendous experience and led KKR to title twice. He is also really good with the youngsters coming in," said Iyer.
Iyer's new teammate Vijay Shankar, too, exuded confidence ahead of the season beginning April 7.
"It is great to have Ponting and we have a well-balanced team. What is most important is that how do well as a team," he said.