Royal Challenger Bangalore opener Chris Gayle, who powered his side to an easy eight-wicket win over Kolkata Knight Riders on Thursday, attributed the victory to team work.
"The team effort was wonderful, both bowlers and batsmen contributed to our victory. Bowlers did their job well at the death, not giving any chance for the rivals to post 170-odd runs, which appeared achievable at one point of time," he said.
- PHOTOS: Royal Challengers vs Knight Riders, 12th match
Gayle said his team had a very good start against Mumbai Indians but could not get enough total on the board in the next two games.
The West Indian opener hammered nine sixes in his unbeaten 85-run knock to take his to past Kolkata's 154 for eight with 15 balls to spare.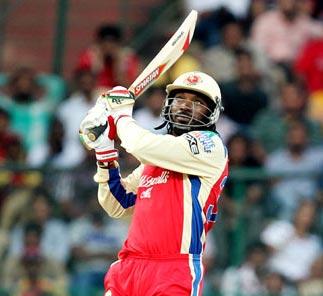 Up against his fellow countryman Sunil Narine, Gayle said he wanted to see off the mystery spinner and not lose his wicket.
"In this kind of a situation. It is not a good idea to lose your wicket. We did not want to give any chance to KKR's key bowler," he said.
Asked if his team's fortune is entirely dependent on his performance, Gayle said there are other good players in the side.
"Because I have scored a quite a good amount of runs it looks like whenever I don't score the team doesn't do well. But we have superb international stars and young Indian players who were capable of winning games, he said.
"We have to look at the situation and its unfortunate that sometimes they are not able to pull off but I am a batsman as well. I have been going through a bad patch in the last couple of months in my career. I don't mind if Virat (Kohli) keeps the Orange cap. AB has come out with some wonderful efforts for us. What I want is a trophy," he added.
Photograph: BCCI