Skippers Virat Kohli and Gautam Gambhir, who were involved in an ugly spat during Royal Challengers Bangalore's match against the Kolkata Knight Riders, were warned and reprimanded for breaching the Indian Premier League code of conduct in Bangalore, on Thursday.
- PHOTOS: Bangalore vs Kolkata, 12th match
Kohli and Gambhir were involved in an on-field altercation after the latter was dismissed in the 10th over of the innings.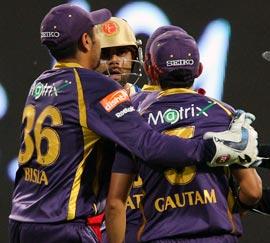 As Gambhir and other players walked towards cover region to celebrate the dismissal, Kohli instead of trudging back to the pavilion walked towards short extra cover and apparently made a remark.
Suddenly, Gambhir was seen walking angrily towards his junior India team mate. However it was another Delhi lad Rajat Bhatia, who got in between them and tried to calm Gambhir down.
Both skippers admitted to the Level One offence (Article 2.1.4) of using language or a gesture that is obscene, offensive or insulting during the match.
For Level 1 breaches of the IPL Code of Conduct, the match referee's decision is final and binding.
Photograph: BCCI