It was a war of words between two Delhi teammates.
After Laxmipathy Balaji had Virat Kohli (35) caught by Eoin Morgan at sweeper cover, the batsman instead of heading back to the pavilion went towards the KKR captain.
Gautam Gambhir appeared to have uttered an expletive, at which his Bangalore counterpart was infuriated.
Both players charged towards each other, and it took the effort of another Delhi player, Rajat Bhatia, to ensure a possible collison was avoided and the war of words didn't escalate.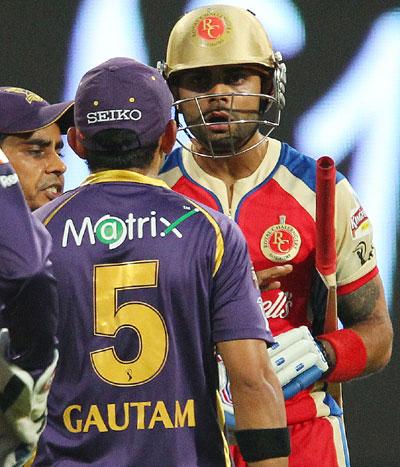 Indeed, there was no love lost between the rival captains -- Knight Riders' Gambhir and Royal Challengers' Kohli -- in the ugly on-field spat after the latter was dismissed in the 10th over of the innings.
The incident took everyone by surprise, as Gambhir and Kohli have not only played together for the country but also their state side Delhi, North Zone and ONGC.
The incident occured after the first delivery of the 10th over, bowled by Lakshmipathy Balaji.
Kohli, who had hit Pradeep Sangwan for two sixes, went for a wild slash but was caught in the sweeper-cover region.
As Gambhir and other players walked towards the cover region to celebrate the dismissal, Kohli, instead of trudging back to the pavilion, walked towards short extra cover and apparently made a remark.
Suddenly, Gambhir was seen walking angrily towards his junior India teammate. However, Delhi lad Bhatia intervened and calmed Gambhir down.
Photograph: BCCI