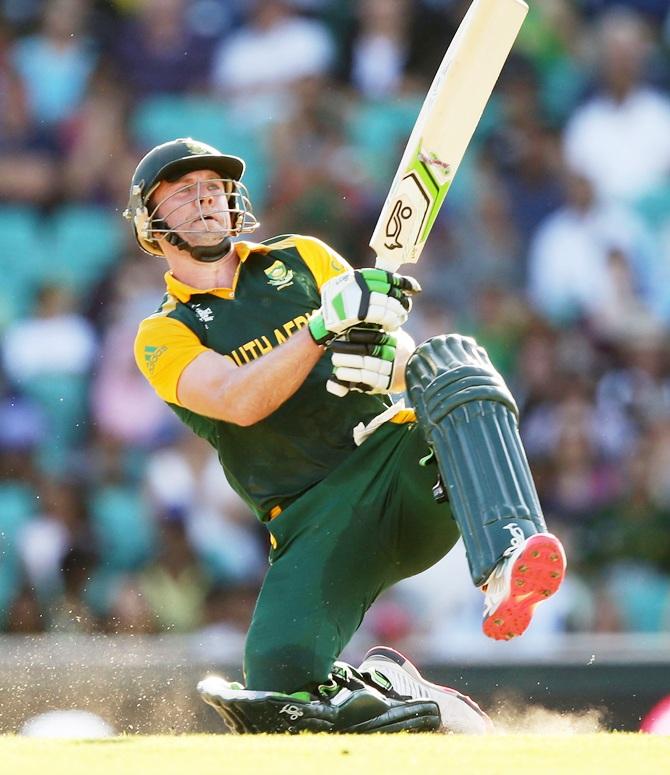 South Africa's AB de Villiers bats during the 2015 ICC World Cup match against the West Indies at the Sydney Cricket Ground. Photograph: Matt King/Getty Images
When AB de Villiers gets going a bowler can hardly do anything, as the South African skipper has the ability to hit 360-degrees, his compatriot and Kolkata Knight Riders speedster Morne Morkel revealed.
Morkel said one has to think on his feet to contain someone like AB, considered the most dangerous batsman in the modern day cricket.
"You can't really plan against AB. He's a world class batter. Only this is to just enjoy the contest between bat and ball and try to execute. AB has got all the shots in the book. He scores 360 degrees," Morkel said, on the eve of their IPL match against Royal Challengers Bangalore.
"You have to think on your feet, just try to enjoy the experience and execute as best as possible."
Morkel said the secret of De Villiers's success summing up the field placements easily.
"One thing about him is as soon as he sees the field placements he will sum it up and work the gameplan around it and play all the sweeps and reverse sweeps. He's very hard to bowl to.
"Not only can he hit the short ball for six, but if you just miss your yorker he will hit it over. The margins are so small with these quality players these days. With a quick outfield like at Eden, it's tough to bowl at. We prepare to enjoy the challenge."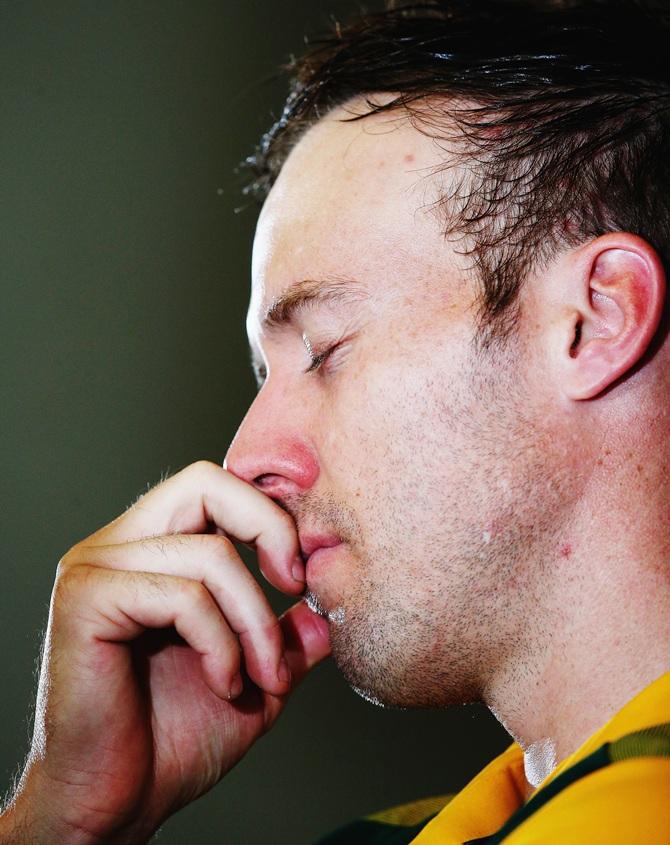 South Africa's AB de Villiers is lost in thought during the press conference after losing New Zealand in the 2015 World Cup semi-final at Eden Park. Photograph: Hannah Peters/Getty Images
The World Cup images of his teary eyes after their shocking four-wicket loss to New Zealand in the semi-finals may still be fresh in minds but Morkel said he has moved on.
Recalling the death overs, Morkel said the penultimate over bowled by him was equally crucial in which he conceded 11 runs to give Dale Steyn 11 runs to defend.
"Second last one was just as important. But life goes on. I'm playing for Kolkata now, and I will give my full energy for the seven weeks. I can't really turn back time."
His focus is now on helping KKR defend their title.
"It's important to create memories for this unbelievable team. We have got a trophy to defend and that's the main focus," said Morkel.
Returning from an ankle injury, senior Morkel, Albie, turned up for his new team Delhi Daredevils and almost won the match single-handedly before they lost by one-run to Chennai Super Kings on Thursday night.
Morne said: "Obviously, I'm very happy for Albie. He's coming back after a long injury. He's also batting at different position, at No 3. To bat there and almost win the game was really amazing."
Asked how he is dealing with the workload of being the only strike bowler for KKR, Morkel replied: "We are quite fortunate to have Pat Cummins. He can also bowl at 140-150s. He's got the skill to play a key role. Andre Russell can bowl quick.
"It's a long tournament and it's important to manage myself. I'm still feeling 100 per cent. As long as the selectors in the team want me to take the new ball, I'm quite happy to do that," he said.
Morkel further said his team is full of match-winners.
"In our squad anybody can win the game. Defending or chasing we have got the weaponry to do the business," he said.