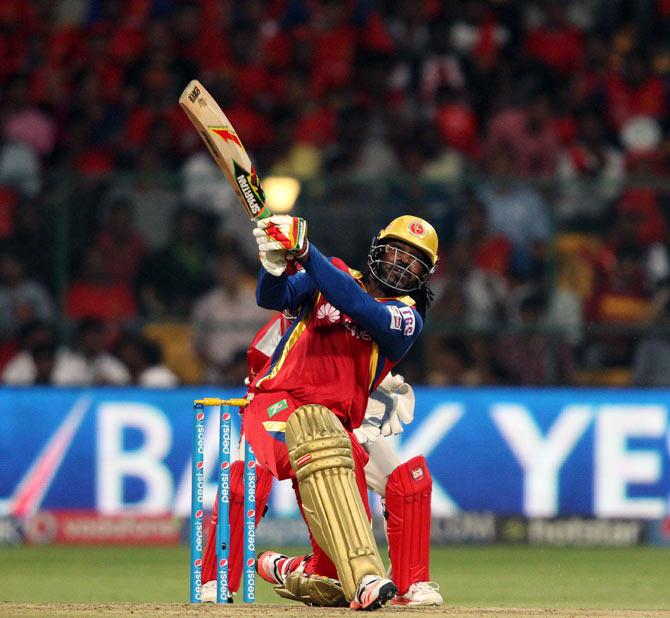 Chris Gayle hits a six. Photograph: BCCI
Kings XI Punjab coach Sanjay Bangar rued drop catches as Chris Gayle went on to smash a match-winning 57-ball 117, saying the West Indian batsman's innings completely turned the match in Royal Challengers Bangalore's favour in their Indian Premier League match on Wednesday.
KXIP paid a heavy price for dropping Gayle twice -- on 27 and 53 -- as the left-handed Caribbean went on to hit his fifth IPL century and help RCB post a 138-run victory.
- Gayle storm blows away Punjab, RCB rise to third
"We all know how good the Chinnaswamy wicket is. Once you get going it is very difficult to contain a batsman. I just thought that we should have held on to those two chances, probably had that happened we would have been chasing 180-odd runs on that track," Bangar said.
Asked what would he do to lift the morale of his bowlers, especially after conceding 226 runs, Bangar said better performance alone can lift the spirits up but so far it hasn't materialised, which is worrying.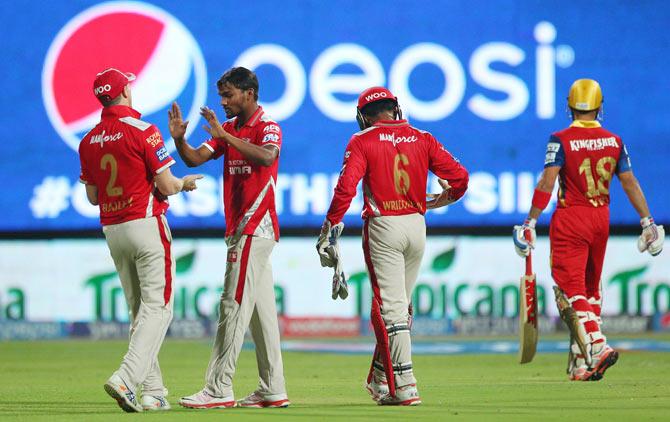 Sandeep Sharma of Kings XI Punjab celebrates the wicket of Royal Challengers Bangalore captain Virat Kohli. Photograph: BCCI
"It has been a very difficult phase for us so far. We tried to keep the spirits and confidence high as much as possible, but unless you get a performance under your belt, the confidence doesn't seems to lift up, and that has been our worry," he said.
Bangar said since there is no chance of his team making the playoffs, they have to play for pride.
"After such a dismal performance against RCB, we have to dig out deep and pull out some sort of performance. The way things are going, we need to play for our pride. We are trying very hard. It is cricket. It is not happening," he said.
On weather youngsters would get a chance to play, as KXIP are already out of the race for the playoffs, Bangar said, "Definitely, we will have a look into it. Not the youngsters alone but those who haven't played this season."
Bangar disagreed that World Cup fatigue has taken a toll and resulted in top batsmen not firing.
"I don't think fatigue can be a reason. If you see players like David Warner, Shikhar Dhawan, Steve Smith, who have played World Cup, everybody has performed. From our side Bailey, Miller and Maxwell, all of them are putting in their efforts but it is not working out. Performances have not come about and that's the reason why we are in such a poor state," said Bangar.