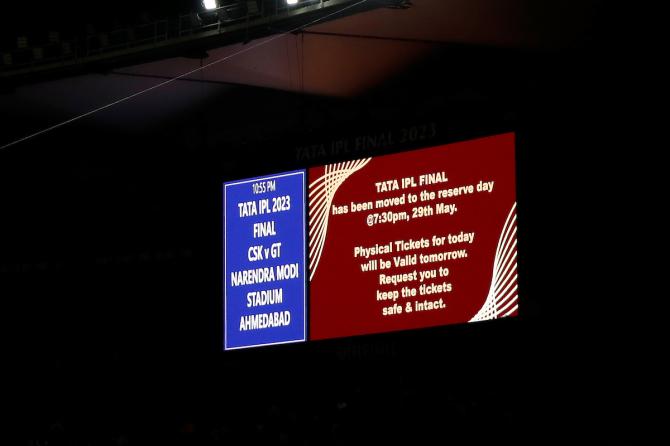 The final of the Indian Premier League 2023 was on Sunday moved to the reserved day after relentless rains delayed the toss and subsequently the start of the summit showdown in Ahmedabad.
The announcement was made at 10:55 pm local time.
The title clash between Gujarat Titans and Chennai Super Kings, thus, will be played at the Narendra Modi Stadium in Ahmedabad on Monday.
There is no prediction of rain in Ahmedabad for Monday, which means that there is possibility of a full match.
With the weather forecast not being too promising for the final on Sunday, it only kept getting worse for the fans who had turned up to pack the house.
It began raining in Ahmedabad in the evening half an hour before the toss time -- around 6:30 pm local time -- and did not stop for longer durations at least for the next two-and-a-half hours.
The rain, however, did stop after 9:00 pm local time and the covers were taken off, with two super soppers already in action from around 8:30 pm IST.
However, another heavy spell of rain returned to force the ground staff to cover the field again and players off the pitch, who had started warming up.
There were some serious puddles on the covers and exposed parts of the outfield, which would have taken the groundstaff more than a hour to clear, provided the rain had stopped.