Srinivas Bhogle and Purnendu Maji present Rediff.com's Most Valuable Players ratings after the league phase in IPL 10.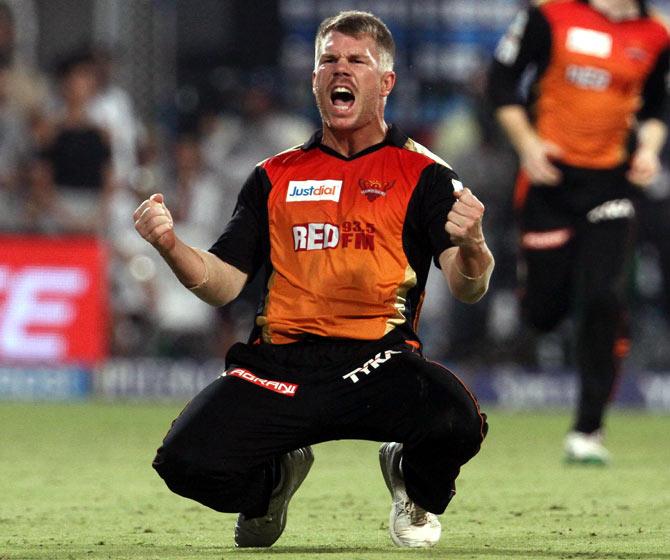 IMAGE: David Warner has been at his attacking best. Photograph: BCCI
David Warner's leadership qualities and his golden run with the bat sees him lead the MVP rankings in the Indian Premier League.
Warner, who captains the Sun Risers Hyderabad, is going to be the most valuable player of IPL 10 with a MVPI of 700 so far.
He has scored 604 runs at a strike rate of 145 (no one else has even reached 500), he has hit more 4s (61 of them) than anyone else, and only Glenn Maxwell has hit more 6s than Warner and Rishabh Pant's 24.
Most of all, Warner has been this IPL's best captain.
Ben Stokes of the Rising Pune Supergiant (RPS), with his MVPI of 609, was the only potential challenger, and could even have surpassed Warner, especially if RPS had reached the final by the harder route.
It's a pity he left for some English team bonding exercise in Spain when he was bonding so brilliantly with the cricket bat and ball, with and without pads.
The MVPI table also allows us to identify the top three performers so far from every team.
Sunrisers Hyderabad: David Warner (704), Bhuvneshwar Kumar (479), Shikhar Dhawan (476)
Rising Pune Supergiant: Ben Stokes (609), Rahul Tripathi (449), Steve Smith (421)
Kings XI Punjab: Glenn Maxwell (548), Axar Patel (536), Hashim Amla (456)
Kolkata Knight Riders: Robin Uthappa (525), Sunil Narine (481), Gautam Gambhir (467)
Gujarat Lions: Suresh Raina (517), Dinesh Karthik (425), Brendon McCullum (397)
Delhi Daredevils: Rishabh Pant (489), Sanju Samson (440), Chris Morris (403)
Royal Challengers Bangalore: Pawan Negi (476), Kedar Jadhav (342), Virat Kohli (308)
Mumbai Indians: Kieron Pollard (415), Hardik Pandya (410), Parthiv Patel (373)
The table below, updated after the IPL 10 league phase, tells the full story.
The data has been updated after the league phase ended, on May 15, 2017.