It was very rare to see emotion on Waqar Younis's face off the cricket field. But 15 years after making his debut that emotion surfaced through his eyes on Monday when he announced his retirement from the game.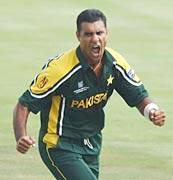 The Pakistani pace ace tried to wash it away by saying, "I am now preparing for my second innings."
Retirement is death in many ways. It is the end of a dream gone real.
Hours before the former Pakistan captain made the announcement, there was hope for one last hurrah. But the hunger was gone, the desire wobbling.
Younis, who mastered the art of reverse swing, took it to another level and damaged many toes en route to a truckload of wickets said his final goodbye.
Along with Wasim Akram, who he gives credit to for 50 per cent of his wickets, he gave Pakistan one of its finest phases in world cricket. Whenever Pakistan was up a gum tree, he came up with a spell that saved them.
In an exclusive interview with Assistant Editor Faisal Shariff, Younis discusses his career and the various controversies that chased him through the last 15 years.
Is there joy or a tinge of regret as you bid farewell to an illustrious career?
There are a lot of things going through my mind at this point of time. It is an emotional moment. There is a mix of regret and some great moments about the last 15 years. But as I say my goodbye I don't wish to whine. I am happy that I played my cricket with my heart, not so much my mind. But my heart has given it up now and I want to let go.
| | |
| --- | --- |
| | Also Read |
| | |
Who was the greatest bowler of your era?
It is a difficult question, but I would say Wasim Akram was the best bowler I ever saw. He was a top bowler and his bowling gave me a lot of courage. That made me a better bowler. His preparation before games impressed me no end. There used to be times when he would not train and bowl extraordinary spells. He was an exceptional performer.I also rank Glen McGrath and Javagal Srinath very highly for the kind of performances they have given.
You are, in a way, the last great fast bowler from Pakistan. Does it worry you that the legacy of fast bowling in Pakistan might be at its end?
The worse thing that could have happened to Pakistan cricket is that Wasim Akram and I went at the same time. We did not get enough chance to pass on the knowledge to the youngsters. But, maybe, some people did not want it to happen.
Does it hurt seeing the young Pakistani fast bowlers struggle?
Surely, it does hurt. I don't see the passion in them to succeed. When Wasim Akram and I played together there used to be a straight competition. There was a lot of controversy about our fights but it helped the country. We wanted to outdo each other with the ball. [Shoaib] Akhtar and [Mohammad] Sami are not fighting for wickets and it shows.
Do you think the rules for what constitutes ball-tampering need to change?
When we [Pakistanis] did it, they called it ball-tampering. When their bowlers did it, they labeled it reverse swing. But I agree with Geoffrey Boycott, who said Wasim and I could have bowled out the English team of that time with oranges.
The media has just hyped up the whole thing, but I feel something or the other has always been happening with the ball. Earlier bowlers used Vaseline on the ball; then they started picking the seam of the ball. Something will always happen to the ball; no new laws can stop that from happening.
Earlier, also the ball did things; today they call it reverse swing.
To my mind, chucking is a far bigger issue than ball-tampering. The ICC must bring in a law to change that from happening. The Under-19 World Cup, recently held in Bangladesh, was a big eye-opener for me. I was an adjudicator there and I saw some youngsters with suspect actions. You just cannot stop them. Some top-class bowlers who chuck are playing the game and no one is stopping them.
Was captaincy a bane or a boon for you?
Captaincy was the best thing that happened to me until the last World Cup. I enjoyed it every bit. I have led one of the best Pakistan teams and also one of the youngest; it has been an honour. When I led the youngest cricket team there was no coach. Besides Saeed Anwar there was no other senior in the side. I never enjoyed myself more. The players were just ready to die for you. It was a great dressing room.
But in the 2003 World Cup, it wasn't really the way we wanted to play. I was just jinxed when it came to World Cups. I trusted some wrong guys and they let me down. But that's no excuse. We played badly and I didn't do my job well enough.
Do you think bowlers don't make good captains?
I don't agree with that. I know the general belief is that batsmen make good captains. But I think all-rounders make the best captains, since they have a fair idea of both the departments. But in Tests, I think bowlers make better captains. Because, let's not forget, bowlers win Tests.
How much did the match-fixing allegations affect you?
They never played on my mind. Some loud mouths like to put people down. They [the allegations] made me sad but never affected me. But I think it has stained the game forever. They will always be there. There is so much money in the sport now that these allegations will never die.
Imagine, in this [India-Pakistan] series, a cricketer told me that games were being fixed and huge sums of money involved. If the Karachi one-dayer was fixed then that is great fixing. If the one-dayers were fixed then hats off to the fixers.
Have you ever been involved in match-fixing? Have you ever been approached?
I wouldn't say that I have never been approached. I have had phone calls from strangers asking me to fix games. I don't know who phoned. Maybe, someone was just fooling around with me. But that was a long time ago, in the early nineties. But I have never entertained match-fixers.
Which would be the most unforgettable moment of your cricketing career?
My first wicket in Karachi, of Sachin Tendulkar, is unforgettable. I remember knocking his middle stump out of the ground. It was a precious wicket. I never thought that he would become such a great cricketer. There was a lot of hype about this young kid from the tenth class and we were wondering what he was all about. I was told that he was the future of India. And how true that was. I am retiring after 15 years and he is still playing well for his country.
It was only in the last Test when I hit him on the nose off the glove that I realized what he was all about. After that he scored 50-odd runs against an attack that had me, Wasim, Imran Khan and Zakir Khan. That was guts.